Method Smarty Dish Dishwasher Detergent
Free of Dyes + Perfumes
20 tablets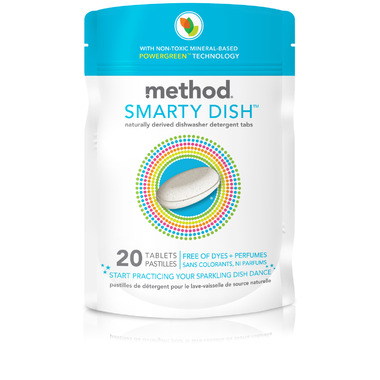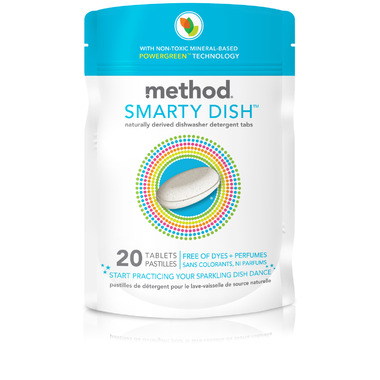 Method Smarty Dish Dishwasher Detergent
Free of Dyes + Perfumes
20 tablets
Powerful cleaning punch, earth friendly pouch!

Just when you thought smarty couldn't get any smarter, it does. Still a super powerful detergent that cleans dirty dishes without resorting to dirty chemicals like phosphates and bleach, but now in a lightweight pouch that uses 87% less plastic than the original. Same clean, smaller footprint.

Instead of the nasty phosphates and bleach that make up conventional dishwasher detergent, Smarty Dish is made from super effective ingredients so green that one of them won a presidential green chemistry award (yes, that really is an award). The blend of mineral cleaning salts, anti-spotting agents and enzymes give smarty dish its serious kick, while the biodegradable and non-toxic ingredients mean no harmful residues or fumes to worry about in your home…or down the drain. The formula is DfE-recognized, with packaging made from an ultra lightweight yet sturdy pouch that uses 87% less plastic than a rigid canister.
Ingredients:layered sodium disilicate, hydroxypropylmethycellulose, 2-methyloxirane; oxirane, sodium citrate, imino disuccinate, sodium carbonate peroxide, organic acid salts, tetra-acetyl ethylene diamine, protease, amylase,sodium polyaspartate, fragrance oil blend