method
Method Stain Remover Stick Free + Clear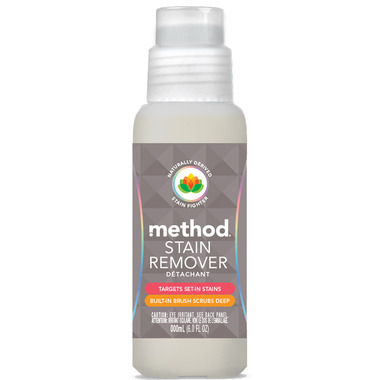 method
Method Stain Remover Stick Free + Clear
177 mL
Method Stain Remover Stick Free + Clear
is rated out of
5
by
15
.
---
Description
The Method Stain Remover Stick Free + Clear removes set-in stains easily, working on both colors and whites. With its Cradle-to-Cradle certification and hypoallergenic + biodegradable formula, you don't have to worry as your washable fabrics will be as safe as possible!

Ingredients:
WATER (AQUA), LAURYL ETHOXYLATE*, SODIUM LAURYL SULFATE*, SODIUM CITRATE*, PEG 600 MONOOCTYL
ETHER*, PROPRANEDIOL*, GLYCERIN*, SOY METHYL ESTER ETHOXYLATE*, POTASSIUM COCOATE*, POLYESTER, LACTIC ACID*, MONOISOPROPANOLAMINE,
CARBOXYMETHYLINULIN*, PROTEASE*, CALCIUM CHLORIDE*, PHENOXYETHANOL, DISTYRYLBIPHENOLSULFONATE,
MANNANASE*, AMYLASE*, METHYLISOTHIAZOLINONE, BENZYLISOTHIAZOLINONE *DENOTES NATURALLY DERIVED OR OF MINERAL ORIGIN

Caution:
MAY IRRITATE EYES. MAY IRRITATE SKIN. DO NOT MIX WITH OTHER CHEMICALS. DO NOT GET IN EYES. DO NOT GET ON SKIN OR CLOTHING. FIRST AID TREATMENT: IF SWALLOWED, CALL A POISON CONTROL CENTER OR DOCTOR IMMEDIATELY. DO NOT INDUCE VOMITING. IF IN EYES, RINSE WITH WATER FOR 15 MINUTES. IF ON SKIN, RINSE WELL WITH WATER. CONTAINS: ALCOHOLS, C12-16, ETHOXYLATED, SULFURIC ACID, MONO-C10-C16 ALKYL ESTERS, SODIUM SALTS, FATTY ACIDS, ESTERS WITH POLYETHYLENE GLYCOL MONO-ME ETHER, DECYL ALCOHOL ETHOXYLATE AND FATTY ACIDS, COCO, POTASSIUM SALTS.
KEEP OUT OF REACH OF CHILDREN.

Highlights

Shipping & Returns
Rated

5

out of

5
by
Sara
from
Works great on blood
My dog got blood all over our white pillowcase and this was at least part of getting it out. The stain was about the size of a baseball and I didn't get to it right away so it was definitely set in. I was just going to throw it out but I decided to try washing it anyway. I put this on the stain and let it sit about 45 min while my other wash finished and then washed it with some baking soda laundry additive and a tide pod in cold water. You would never j ow there was ever blood on it!
Date published: 2020-01-27
Rated

2

out of

5
by
Nomers
from
Targets stains, but semi bleaches fabrics
It certainly targets stain but adds a bright grey or white beach stain along with it. It bleaches whites leaving a grey stain behind. Even after washing, the Method detergent doesn't come out. Hoping it will after a few washes.
Date published: 2021-05-18
Rated

5

out of

5
by
Yasmeen
from
Best stain remover!!
I can't believe how many clothes I've salvaged with this! We have 5 kids and I have been dealt every stain you can imagine. I've tried every stain remover, natural and not. This one takes the cake!!
Date published: 2020-01-24
Rated

5

out of

5
by
EandAMama
from
Fantastic at removing set-in stains
I bought this on a whim because I like a lot of other Method products and I was so impressed. It has taken out stains that have had many many other failed attempts and this gets them out in one treatment. Depending on the fabric, the scrubby brush might be too hard, but you can just squirt the product on. Highly recommend!
Date published: 2020-07-16
Rated

3

out of

5
by
CooperLion82
from
It works, but don't let it touch your skin
It does actually work for getting stains out, but if you get it on your hands, good luck! It took dish soap, exfoliant, sanitizer, a dish scrubbing cloth, and many other things to get the layer of product off my hands after using this. I would definitely recommend using cloves! But if you have white sheets with stains from your dog, great product!
Date published: 2021-09-09
Rated

5

out of

5
by
Beck
from
I've bought this stain remover twice now, it works extremely well without having to use a lot of product. The ultimate test was on a month-old blood stain on a dish towel from cutting myself with a knife, and the marks came out without any extra effort than what's already on the instructions.
Date published: 2021-05-25
Rated

5

out of

5
by
Ange
from
Great product!
We have been using method products for many years, but this was our first time buying this item and I wasn't disappointed! It took out pen, wine and deodorant marks in a cold water wash. It didn't quite take out all of a curry stain on a tablecloth, but hardly noticeable. I will keep purchasing this product.
Date published: 2022-02-10
Rated

4

out of

5
by
Ange
from
Works really well!
This stain remover has worked on getting out pen, various food stains and makeup. It didn't get out all of a tea stain, but the clothing had been washed previously, so the stain was set in. I was impressed with how well it worked and have bought the product several times now
Date published: 2022-04-21