method
Method Stain Remover Stick Free + Clear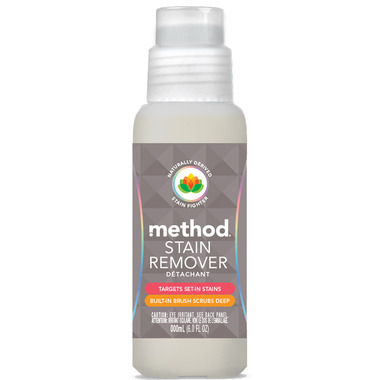 method
Method Stain Remover Stick Free + Clear
Description
The Method Stain Remover Stick Free + Clear removes set-in stains easily, working on both colors and whites. With its Cradle-to-Cradle certification and hypoallergenic + biodegradable formula, you don't have to worry as your washable fabrics will be as safe as possible!

Ingredients:
WATER (AQUA), LAURYL ETHOXYLATE*, SODIUM LAURYL SULFATE*, SODIUM CITRATE*, PEG 600 MONOOCTYL
ETHER*, PROPRANEDIOL*, GLYCERIN*, SOY METHYL ESTER ETHOXYLATE*, POTASSIUM COCOATE*, POLYESTER, LACTIC ACID*, MONOISOPROPANOLAMINE,
CARBOXYMETHYLINULIN*, PROTEASE*, CALCIUM CHLORIDE*, PHENOXYETHANOL, DISTYRYLBIPHENOLSULFONATE,
MANNANASE*, AMYLASE*, METHYLISOTHIAZOLINONE, BENZYLISOTHIAZOLINONE *DENOTES NATURALLY DERIVED OR OF MINERAL ORIGIN

Caution:
MAY IRRITATE EYES. MAY IRRITATE SKIN. DO NOT MIX WITH OTHER CHEMICALS. DO NOT GET IN EYES. DO NOT GET ON SKIN OR CLOTHING. FIRST AID TREATMENT: IF SWALLOWED, CALL A POISON CONTROL CENTER OR DOCTOR IMMEDIATELY. DO NOT INDUCE VOMITING. IF IN EYES, RINSE WITH WATER FOR 15 MINUTES. IF ON SKIN, RINSE WELL WITH WATER. CONTAINS: ALCOHOLS, C12-16, ETHOXYLATED, SULFURIC ACID, MONO-C10-C16 ALKYL ESTERS, SODIUM SALTS, FATTY ACIDS, ESTERS WITH POLYETHYLENE GLYCOL MONO-ME ETHER, DECYL ALCOHOL ETHOXYLATE AND FATTY ACIDS, COCO, POTASSIUM SALTS.
KEEP OUT OF REACH OF CHILDREN.

Highlights

Shipping & Returns