Micro of Switzerland Micro Trike Deluxe with Seatbelt Gold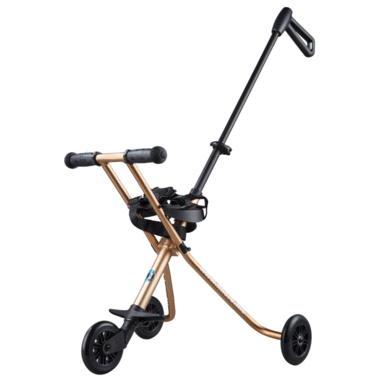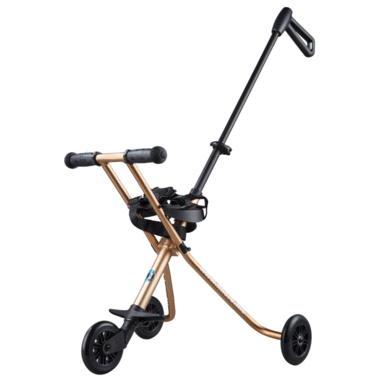 Micro of Switzerland Micro Trike Deluxe with Seatbelt Gold
Micro of Switzerland upgraded their popular Micro Trike with a fine anodized finish and handy removable seat belt!
Great for kids 18+ months who no longer need to nap in a stroller but still need the reassuring backup of a set of wheels to take over when tired of walking. Its small footprint and super short turning radius makes navigating most crowded locations such as shops, cafes, museums and airports so much easier.
With its almost tricycle-like handle bars and adjustable foot rests, the Micro Trike engages the young rider while on the go and that means a more occupied, happier child. An extendable handle gives parents full control of speed and direction making outings are less stressful for everyone!
When not needed, the folded Mirco Trike can hook onto a backpack or shopping cart and is compact enough easily fit into the smallest of vehicles or even bicycle trailers. Premium quality Polyurethane MICRO scooter wheels and the smoothest ball-bearings make the MICRO Trike stable and safe on any hard, smooth surface.

Features:
Stroller alternative for tricycle-aged kids
Short turning radius great for navigating crowds
Ultra lightweight at only 1.9 kg
Keep on hand in the car - super easy to fold, carry and stow
Perfect for tired little legs when sightseeing or shopping
Ages 1.5-5