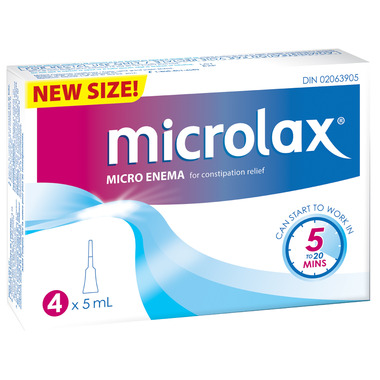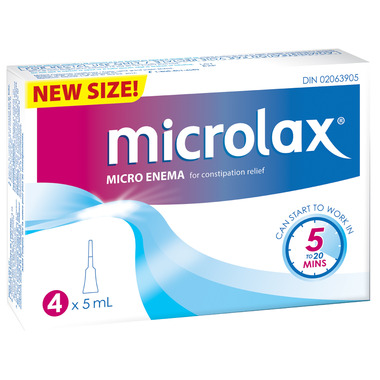 MICROLAX® Micro-Enema relieves constipation quickly and gently.

Features:
Relieves constipation quickly and gently
Typically works in 5 to 20 minutes
5 mL tubes
Directions: Adults and children: the contents of 1 tube (5 mL) administered rectally is usually sufficient but a second tube may be needed in severe cases.

Twist the seal of the nozzle.
Squeeze the tube slightly so that a drop of MICROLAX® smears the tip and thus makes insertion easier.
Insert the nozzle fully into the rectum. Note: In children under 3 years of age, insert only half the length of the nozzle (see indication on the nozzle).
Squeeze out the contents fully by squeezing the shoulder of the tube.
Withdraw the nozzle still squeezing tightly.
MICROLAX® Micro-Enema is indicated for rectal constipation; or as directed by a physician, to facilitate rectoscopic or sigmoidoscopic examination. FOR RECTAL USE ONLY.
Store at room temperature (between 15 and 30° C). Protect from heat.