MidNite PM + Minor Pain Relief Natural Sleep Aid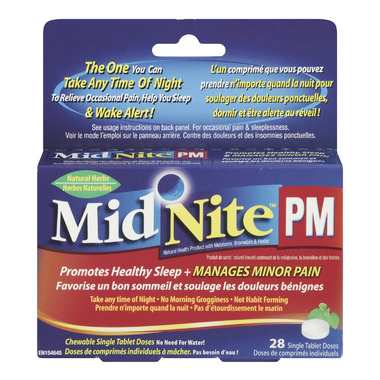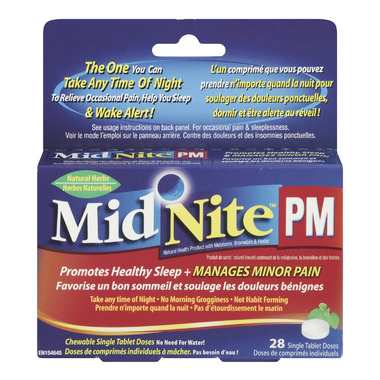 MidNite PM + Minor Pain Relief Natural Sleep Aid
Goodnight tossing and turning! Try MidNite -- a natural sleep solution! For anyone who wants to fall asleep fast or get back to sleep in the middle of the night, MidNite sleep aids present a safe and effective drug-free alternative. MidNite is a natural health product that is regulated and approved by Health Canada. Choose a sleep solution that is safe and effective!
Even occasional minor knee pain can prevent you from falling asleep or wake you up in the middle of the night. MidNite PM can solve both sleep problems. It's a unique combination sleep aid and minor knee pain remedy that you can take at bedtime or in the middle of the night. Get back to sleep fast and wake up ready to go.
MidNite PM contains no drug ingredients, so it doesn't work by "knocking you out." Instead the unique blend of ingredients works to restore your body to its natural sleep cycle. It's safe and effective.
MidNite's unique bedside dosage is specially designed to minimize sleep disruptions. Fast-dissolve tablets and an easy-to-open blister pack mean you don't need to fiddle with caps, or get out of bed for water.
Recommended Use or Purpose:
For relief of occasional minor knee pain and sleeplessness.
Directions:
Chew one tablet, no water necessary or take it with water before bed or anytime during the night. Take another tablet if desired. Do not drive or operate equipment for five hours after taking. For use beyond 4 weeks, consult a health care practitioner.
Medicinal Ingredients:
Melatonin ... 1.5 mg
Stem bromelain ... 20 mg
Non-Medicinal Ingredients (alphabetical order):
Lavandula angustifolia, Magnesium Stearate, Matricaria recutita, Melissa officinalis, Natural peppermint flavour, Silica, Stearic Acid, Xylitol.

Risk Information:
For adult use-keep out of reach of children and pets. Consult a healthcare practitioner prior to use if you have a hormonal disorder, diabetes, liver or kidney disease, cerebral palsy, seizure disorders, migraine, depression and/or hypertension or if you are taking blood pressure or sedative/hypnotic medications, antibiotics, chemotherapeutic or autoimmune drugs, central nervous system depressants, anti-coagulants (blood thinners), antiplatelet or aspirin therapy, or have a medical condition or are taking medications. Do not use if allergic to pineapple. Not to be taken by pregnant or lactating women. Do not take when operating machinery, driving a vehicle, or consuming alcohol. If symptoms persist continuously for more than 4 weeks (chronic insomnia), consult your health care practitioner.