Mighty Leaf Organic African Nectar Tea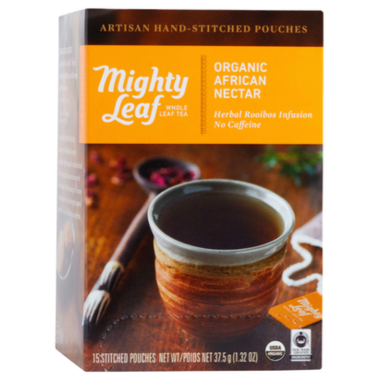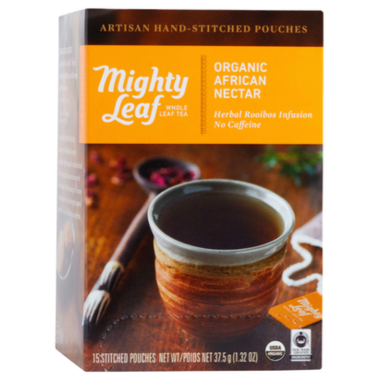 Mighty Leaf Organic African Nectar Tea
Savour the finest rooibos when you journey to the fertile tropics with Might Leaf's Organic African Nectar rooibos tea and savour the fruits of the "Alluring Continent." Made with naturally caffeine free Organic African rooibos tea, also known as red tea, this Mighty Leaf signature rooibos blend teems with hints of vanilla, mango and hibiscus blossoms. It promotes calm and relaxation.


Features:

Contains 15 individually-wrapped pyramid pouches
African rooibos leaves with hints of vanilla, mango and hibiscus blossoms Made with the highest grade whole leaf teas for the fullest flavour
Large, silken pyramid pouches provide room for the whole leaves, blossoms, fruits and herbs to open, expand and express their unique characters
The pyramid pouch is biodegradable, commercially compostable and uses no staples or glue. They are also hand-stitched

The carton is recyclable
Origin: South Africa

How to Prepare:
Steep in 12 oz. of boiling water for 5 minutes.

Ingredients:
Fair Trade Certified Organic Rooibos Leaves, Natural Flours, Organic Hibiscus, Organic Marigold Petals.