Minami Nutrition
Minami Nutrition CardiO-3 90% Omega-3
900 mg Omega-3 30 Capsules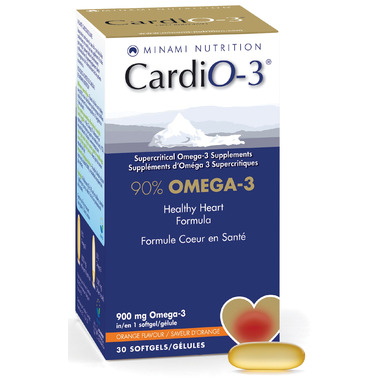 900 mg Omega-3
30 Capsules
---
Description
For adults who are looking for cardio-protective benefits of omega-3s at the highest concentrations, with specific EPA and DHA ratios to aid in the healthy management of triglyceride and cholesterol levels.
Features:
900 mg Total Omega-3s
90% Concentration
635 mg EPA
194 mg DHA
Once Daily Formula
Recommended Use:
Helps support cognitive health and brain function.
Directions:
Adolescents (9-18 years old) and adults, take 1 softgel daily or as recommended by a healthcare practitioner.
Medicinal Ingredients (per softgel):
Fish Oil (from mackerel, sardine, anchovy)(body) ... 900 mg
Providing:
EPA ... 635 mg
DHA ... 194 mg
Non-Medicinal Ingredients:
Vitamin E, gelatin, purified water, glycerol, natural orange flavour, rosemary extract.
No added yeast, wheat, gluten, corn, dairy products, artificial colors or preservatives.
Supplement Facts (per softgel):
Calories 9 ...........................................................% Daily Value
Total Fat 1 g.................................................................... 1.5%
Saturated fat...................................................................... 0%
Cholesterol 0 mg ............................................................. 0%
Total Carbohydrate 0.1 g................................................. 0%
Total Protein 0.4 g ......................................................... 0.8%
Omega-3 Polyunsaturated Fat ............................... 900 mg
EPA .............................................................................. 635 mg
DHA ............................................................................. 194 mg
ALA (Alpha Linolenic Acid) ............................................5 mg
Other Omega-3 Fatty Acids........................................ 71 mg
Omega-6 Polyunsaturated Fat ................................. 20 mg
Omega-9 Monounsaturated Fat ............................... 30 mg
Tocopherol-rich extract (Vitamin E) 2 mg ...................12%
Highlights

Shipping & Returns