Minami Nutrition MorDHA Prenatal Highest DHA Formula
600 mg Omega-3
60 Softgels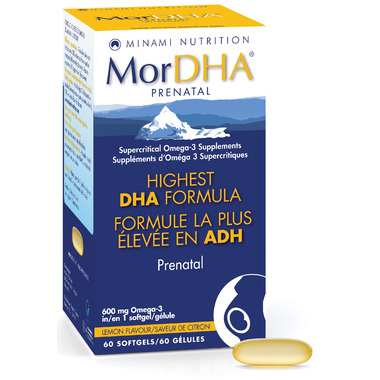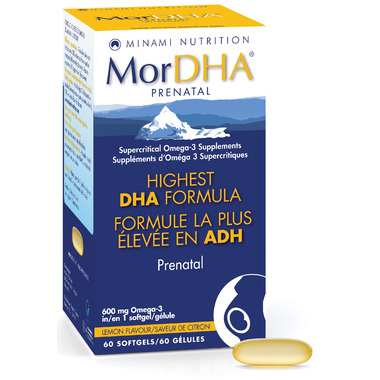 Minami Nutrition MorDHA Prenatal Highest DHA Formula
600 mg Omega-3
60 Softgels
For women who are pregnant or breastfeeding and recognize the distinct benefits of DHA for themeselves and their children. A new study shows that fish oil supplements in the diet of pregnant women can bolster their infants' immune systems. In this case, babies overcame their colds faster if during pregnancy their mothers had taken 400 milligrams of a supplement containing docosahexaenoic acid (DHA).
Features:
600 mg Total Omega-3s
75% Concentration
465 mg DHA
63 mg EPA
Once Daily Formula
Lemon flavour
Recommended Use:
Helps support cognitive health and brain function and is a factor in the maintenance of good health.
Directions:
Adults, take 1 softgel daily or as recommended by a healthcare practitioner.
Medicinal Ingredients (per softgel):
Fish Oil (from mackerel, sardine, anchovy)(body) ... 600 mg
Providing:
DHA ... 465 mg
EPA ... 63 mg

Non-Medicinal Ingredients:
Vitamin E, fish gelatin, purified water,glycerol, lemon oil, natural lemon flavour, rosemary extract.
No added yeast, wheat, gluten, corn, dairy products, artificial colors or preservatives.
Supplement Facts (per softgel):
Calories 8......................................................... % Daily Value
Total Fat 1 g................................................................... 1.5%
Saturated fat 0 mg ........................................................ 0%
Cholesterol 0 mg .......................................................... 0%
Total Carbohydrate 0.1 g............................................... 0%
Total Protein 0.4 g ........................................................ 0.8%
Omega-3 Polyunsaturated Fat .............................. 900 mg
EPA ............................................................................ 635 mg
DHA............................................................................ 194 mg
ALA (Alpha Linolenic Acid) ...................................... 5 mg
Other Omega-3 Fatty Acids / .................................. 71 mg
Omega-6 Polyunsaturated Fat ................................ 20 mg
Omega-9 Monounsaturated Fat .............................. 30 mg
Tocopherol-rich extract (Vitamin E) 2 mg ................ 12%