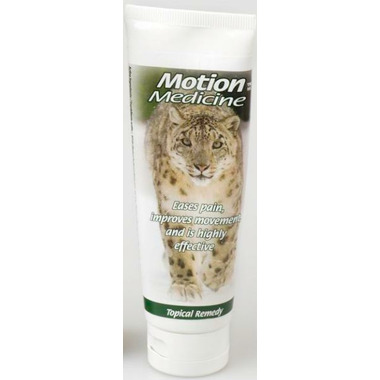 Motion Medicine Topical Cream
is rated out of
5
by
14
.
---
Description
Motion Medicine ™ is a topical analgesic cream used to ease pain and improve movement. It is also highly effective when used after bruising type injuries. It can be effective for joint and muscle pain, and is particularly helpful to prevent muscle pain after exercise workouts.
Motion Medicine™ is a blend of all natural ingredients which combine to act to relieve pain and improve movement. A portion of the ingredients work as "carriers", and act to transport the "healing" elements through the skin deep to the areas where the pain originates.
Highly effective for:
Relief of pain
Arthritis
Joint and muscle stiffness
Backache
Shipping & Returns
Rated

5

out of

5
by
Taunya
from
I'm a Registered Massage Therapist, and received some samples of Motion Medicine at a course I attended. I was reluctant to use it, because so many people are 'scent sensitive', so I was surprised at how well it was received, when I offered it. It smells quite a lot like Vicks Vaporub, but a bit more fresh. Non greasy. Stimulating, but not too intense. When I ran out of the samples, I ordered some from Well.ca because people kept asking if I had, "Some of that nice smelling stuff…" Seems to be a fan favourite.
Date published: 2015-08-31
Rated

4

out of

5
by
Heather
from
I have facet joint pain and sensitive skin. A friend recommended this product to me and I started using it in June. The product is very liquid compared to other analgesic rubs. You don't need a lot. It absorbs quickly and is very soothing and doesn't irritate my skin. I warm the tube first in a little warm water (my back is very sensitive to cold.) Even though it's pricier than Voltaren , it works better for me and I'd buy it again.
Date published: 2016-07-15
Rated

5

out of

5
by
Paul
from
The best creme I've used. Creates almost instant heat when rubbed in and soothes aching muscles. Will definitely continue its use and order from well.ca. Well.ca have always been fast in responding to orders and getting them to my door.
Date published: 2017-03-20
Rated

5

out of

5
by
judy
from
wow this stuff has really helpped me. I have fibromayalgia, I,m always in pain and frequent headaches. Bought it 2 days ago and need a bigger jar asap! Great stuff, better than tiger balm.thank you
Date published: 2011-08-05
Rated

5

out of

5
by
Jeff
from
Have not used this product frequently yet, but my short experience with it I have found it to be very effective for my nagging arthritic pain. So far, though a bit pricey, I would recommend it.
Date published: 2016-06-16
Rated

5

out of

5
by
Diane
from
Best Cream Ever. Relieves knee joint issues, ankle issues... I'm a jogger and I use it on my legs all the time! My husband used it on his elbow and shoulders. Awesome best product ever!
Date published: 2013-09-03
Rated

5

out of

5
by
Gwen
from
My naturopath recommended this to me after my car accident for lower back pain. So glad well.ca is carrying it as I was unable to find it. Great for arthritis and tendonitis as well
Date published: 2016-08-18
Rated

5

out of

5
by
Carolyn JM
from
I am using this product in the massage of the sacrum area. It is, by far, the best medicinal cream for massage - non-greasy and it absorbs perfectly. Not too scented either.
Date published: 2016-05-19