Motrin Tablets Super Strength
400 mg Ibuprofen
45 Tablets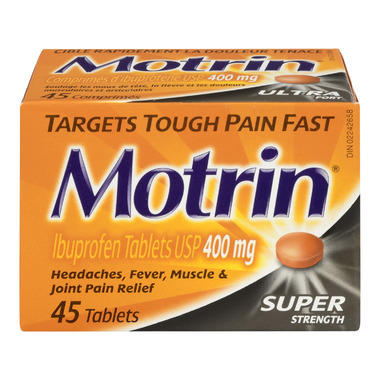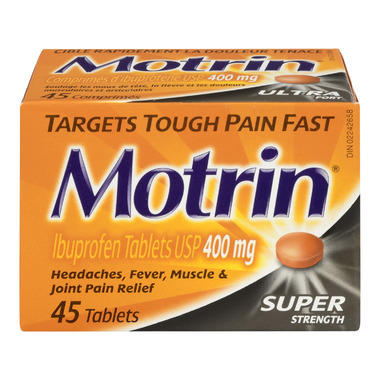 Motrin Tablets Super Strength
400 mg Ibuprofen
45 Tablets
MOTRIN® 400 mg Tablets, Super Strength provide fast, effective relief of mild to moderate pain.
For adults and children over 12 years of age, each super strength tablet contains 400 milligrams of ibuprofen to treat pain caused by headaches/migraines, menstrual cramps, cold and flu, sprains and strains, joint and back aches, toothaches, and muscle inflammation.
Directions:
Adults and children over 12 years of age: 1 tablet every 4 to 6 hours as needed to a maximum daily dose of 3 tablets. Should not be taken for pain for more than 5 days or for fever for more than 3 days without first talking to a doctor or dentist. Side effects are more likely to occur at higher doses.
Medicinal Ingredients:
Ibuprofen, 400 mg.
Non-Medicinal Ingredients (alphabetical):
Carnauba wax, colloidal silicon dioxide, corn starch, FD&C Yellow No. 6, hypromellose, iron oxide black, polydextrose, polyethylene glycol, propylene glycol, sodium cyclamate, sodium starch glycolate, stearic acid, titanium dioxide.