MutiSure Prenatal Multivitamin & Mineral Supplement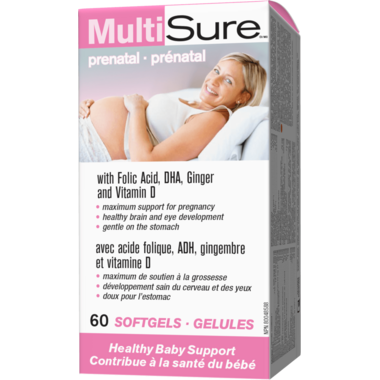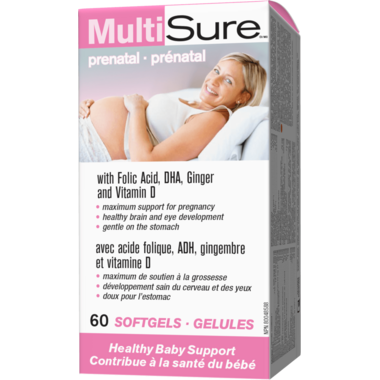 MutiSure Prenatal Multivitamin & Mineral Supplement
Prenatal nutrition requires more than just vitamins – omega-3s such as DHA are vital too. MultiSure Prenatal ensures you and your growing baby get the high potency, full spectrum support you need, from folic acid to fatty acids, while ginger helps mitigate unpleasant pregnancy symptoms.
Provides support prior to becoming pregnant, during, and after pregnancy

Contains omega-3 DHA to support the brain, eye, and central nervous system development

Helps in the development and maintenance of bones, teeth, and connective tissue Reduces the risk of neural tube defects

Relieves morning sickness, nausea, heartburn, and indigestion GMO- and additive-free

Gentle on the stomach, easy swallow softgels
Directions:

Recommended dosage (adults): 2 softgels daily with food, a few hours before or after taking other medications or health products, or as directed by a physician.
Ingredients:

Each softgel contains: Vitamins: Beta-Carotene 1250 IU (750 mcg) Vitamin B1 (thiamine mononitrate) 0.9 mg Vitamin B2 (riboflavin) 0.85 mg Vitamin B6 (pyridoxine hydrochloride) 1.3 mg Vitamin B12 (cyanocobalamin) 4 mcg Niacinamide 10 mg Pantothenic Acid (calcium d-pantothenate) 5 mg Biotin 50 mcg Folic Acid (folate) 0.5 mg Vitamin C (ascorbic acid) 50 mg Vitamin D3 (cholecalciferol) 200 IU (5 mcg) Minerals: Calcium (carbonate) 100 mg Magnesium (HVP* chelate) 50 mg Iron (HVP* chelate) 14 mg Zinc (HVP* chelate) 12.5 mg Copper (HVP* chelate) 1 mg Other ingredients: Fish Oil (anchovy, sardine and/or mackerel) 250 mg Eicosapentaenoic Acid (EPA) 10 mg Docosahexaenoic Acid (DHA) 132.5 mg Ginger 25:1 Extract (Zingiber officinale) (rhizome) 10 mg Lutein (Tagetes erecta) (marigold flower) 2.5 mg * Hydrolyzed vegetable protein

Caution:

Keep out of reach of children. There is enough iron in this package to seriously harm a child. Consult a physician if symptoms persist or worsen
Free of artificial colours, preservatives, or sweeteners; no dairy, sugar, wheat, gluten, yeast, soy, egg, shellfish, salt, tree nuts, or GMOs. Canadian Brand