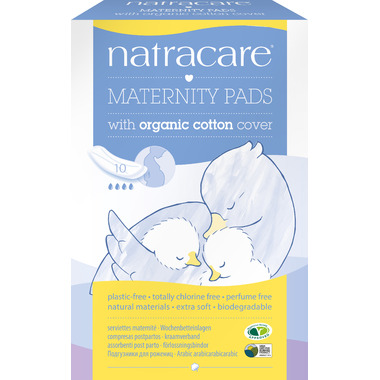 10 Count
Natracare Maternity Pads
is rated out of
5
by
64
.
---
Description
A longer pad with an extra soft cover especially for use after giving birth.
Over the last 16 years, Natracare has established a trusted reputation amongst women seeking a chemical-free choice in sanitary protection. The natural range now introduces the Natracare new mother line, including Natural Maternity Pads and Natural Nursing Pads.
These high quality products, made from pure materials, that are totally chlorine free (TCF), provide new mothers with an untainted choice. Many do not realize that chlorine bleaching, used in many conventional personal care products, produces unwanted by-products called dioxins, which have been linked to cancer, endometriosis, and immune system suppression.
Natracare Maternity pads and Nursing pads are free from plastics, synthetics and super absorbents made from petro-chemicals, which can have a negative impact, both on women's health and the environment. During pregnancy, women are naturally more aware of and concerned about the health and care of their bodies. The pureness of Natracare products can provide women with the necessary reassurance that is so important at this time of their lives.
No chlorine
Natural materials
Latex free
Plastic free
Perfume free
Extra soft cover
Biodegradable
Vegan-friendly
GMO free
Organic cotton

Highlights

Rated

2

out of

5
by
Amna
from
I am honestly disappointed with these pads. I only got them because everyone said they don't stick to stitches, and after two boxes I can attest that they don't. That is the only good thing about them. They are quite narrow for maternity pads, so they the edges gather up and rub against stitches, hurting them. They should be wider, and there should be an option with wings, especially for the price. I love the hospital maternity pads much more than these.
Date published: 2019-02-16
Rated

4

out of

5
by
Isabel
from
Excellent product overall. Very gentle on the skin, no scent. I thought the adherence was great, it stayed in place. However, for the first couple of days post partum, these weren't long enough. Wings would have been another excellent addition, but if you change the pads often enough, you shouldn't have any 'accidents'.
Date published: 2017-03-24
Rated

4

out of

5
by
mandy
from
I used these after having my daughter 2yrs ago and loved them they are breathable comfy and just felt clean knowing no chemicals are in it. I have them in my hospital bag for baby number two already I gave a 4 because I would like them better with wings I never had a leak but would feel more secure.
Date published: 2016-03-02
Rated

5

out of

5
by
Heather
from
Love these pads! Used after getting home from hospital - much less bulky than hospital pads, comfortable and didn't stick to stitches or shift around, great absorbency and perfect length for coverage. Originally bought for eco-friendly benefits and very happy with product!
Date published: 2019-11-18
Rated

5

out of

5
by
V
from
The perfect maternity pad
These are perfect postpartum pads! Good coverage. No wings so no chaffing. And nice and soft. Also great for making pad-sicles. A friend gifted me these as a postpartum gift and I bought myself a few boxes extra after the fact.
Date published: 2021-07-02
Rated

5

out of

5
by
Liz
from
I used these post partum and loved them! I had a good amount of stitches and I found them so much more comfortable than any of the other alternatives and they fit well in regular clothing so I felt a bit normal!
Date published: 2019-11-11
Rated

5

out of

5
by
Amy
from
These pads were amazing after having my baby. They were very comfortable and breathable. I may use them moving forward as much more comfortable than my normal pads. Would recommend for sure.
Date published: 2013-11-17
Rated

4

out of

5
by
Katherine
from
Great pads for sore bits!!! Love that it's made with natural organic cotton, no bleach or scents. The regular disposable brand name pads, while awesome for absorbency and have wings, seemed to irritate my bits more than usual and these are so comfortable! Very soft and gentle!
Date published: 2019-11-28