Natracare
Natracare Natural Ultra Pads with Wings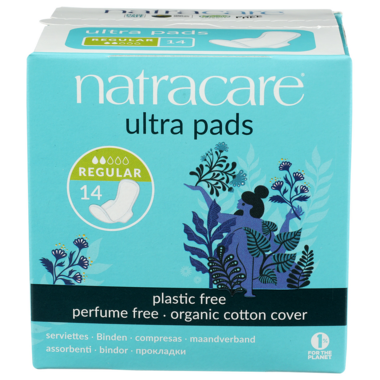 Natracare
Natracare Natural Ultra Pads with Wings
Regular
14 Count
Natracare Natural Ultra Pads with Wings
is rated out of
5
by
10
.
---
Description
Women today are conscious of the need to restrict their contact with synthetic materials and unnecessary chemicals and additives. They are becoming more aware that most of the widely available sanitary pads sold today, contain a blend of chlorine-bleached pulp, polypropylene, polyacrylates and plastic.
For each monthly cycle, it makes sense to choose a pad that is made from natural materials. Many gynaecologists have advised women with sensitive skin to use Natracare pads to reduce their contact with chlorine bleached materials, and also products containing synthetics, latex and super absorbents made from petrochemicals. Every year, billions of plastic laden pads are disposed of, and generally they end up in landfill sites to sit unaltered for hundreds of years. Every year, in Britain alone, we would have to dig a hole three hundred feet deep and three hundred feet wide to bury the sanitary pads that are thrown away.

Natracare chemical free pads are high quality products made from only pure and natural materials that are made from plant cellulose. They are not chlorine bleached and are free of rayon, plastics and other similar synthetic materials that have a negative impact on our environment. They are comfortable and reliable and available in different absorbencies and styles. The regular pad is narrower towards the middle of the pad so that it fits the contours of the body more readily, whilst the Slender and Super pads are the same width all along the pad's length for a more traditional fit. The Ultra with wings is a slim pad with the added protection of wings. They are individually wrapped so that they can be kept discretely in your bag.

Highlights

Features
Non-chlorine bleached
Perfume free
Natural materials
Extra soft cover
Plastic free
Biodegradable
Vegan Friendly
GMO Free
Organic cotton

Rated

4

out of

5
by
Laura
from
Good for you!
Before using this, I had a problem with other products. It felt so ichty while I used pads. However now I don't feel ichty anymore because I use Natracare pads!!!! It makes me comfortable. And...I like this so much but It often leaks.... That's why I give 4 stars!
Date published: 2021-01-27
Rated

5

out of

5
by
BR
from
Will Definitely Buy Again
I really wasn't sure what to expect because the pads are thin but to my surprise, they really do hold a lot. I love that I'm not compromising my health when I use this product. I love that it's natural and free of chemicals and bleaches. Will definitely buy again!
Date published: 2021-03-17
Rated

5

out of

5
by
Anetp88
from
Impressed
I was very impressed by this product. I read some reviews where people were stating the pad wasn't sticky enough. They must have changed the formula because I found it perfectly sticky, and the pad had an overall good feel.
Date published: 2020-06-10
Rated

4

out of

5
by
ssaf5
from
Better alternative to conventional pads
Pros: comfortable, soft, non irritating, they use organic cotton, use these pads all the time for my period. Cons: pad design could be better to prevent leakage, but overall good
Date published: 2020-02-05
Rated

5

out of

5
by
Becs
from
All natural, great overall pads!
My favourite part about these are that they are chemical-free. Coupled with that, they stick well, offer the right amount of underwear coverage and are well-priced.
Date published: 2021-01-20
Rated

5

out of

5
by
T
from
All natural, made of organic cotton. I like this brand's tampons, which are really great, and thought I'd try the pads. These are pretty great too. Can't complain.
Date published: 2020-07-10
Rated

4

out of

5
by
TanyaD
from
Good product
Good product would purchase again. I am not sure they are plastic free, they look like regular intimate products
Date published: 2022-06-22
Rated

5

out of

5
by
LR
from
So Comfortable!
These are great for sensitive skin and super comfortable! Good absorption!
Date published: 2020-07-22