Natracare
Natracare Organic Cotton Intimate Wipes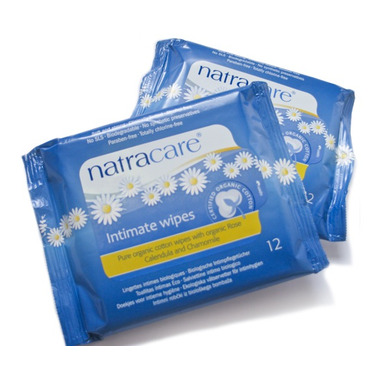 Natracare
Natracare Organic Cotton Intimate Wipes
12 Count
Natracare Organic Cotton Intimate Wipes
is rated out of
5
by
4
.
---
Description
For everyday freshness, during your period, or when travelling, Natracare certified Organic Cotton natural wipes, enriched with Calendula and Chamomile are gentle for cleansing delicate skin because we only use ingredients derived from plants and never use the harsh chemicals and damaging preservatives used in everyday wipes.
Choosing Natracare natural organic cotton intimate wipes allows you to avoid materials derived from petrochemicals, and skin irritating ingredients such as propylene glycol, phenoxyethanol, and formaldehyde releasing preservatives such as imidazolidinyl urea, which is the second most identified cosmetic preservative causing contact dermatitis according to The American Academy of Dermatology.
Almost all wet and dry wipes available today are made from polypropylene (PP) or its cousin polyolefin, materials that are derived from petroleum. The wipes are usually embossed at low temperatures in order to make the wipe appear much thicker than it actually is. In this way, embossed wipes are being sold at a higher price because marketing people determine that the consumer will think it is a better quality wipe because it is thicker, and therefore, is willing to pay more for the privilege of using even more materials that will not biodegrade. It is not how thick a wet wipe pack is that is important to Natracare, but what the wipe is made from and what chemicals it holds that can potentially damage our bodies and the environment.
Many people are now becoming concerned about the long term effects of using products that contain parabens because of the recent findings indicating a potential link to breast cancer . In the 1930's, scientists developed something that could preserve creams. Synthetic Methyl, Ethyl and Propyl Parabens were developed from benzoic acid. Researchers from the Department of Biology and Biochemistry of Brunel University in the UK have conducted a study and found that once these parabens are in our system, they stay in there. It is estimated that 99% of all cosmetic and body care products contain some form of the paraben preservatives. Other chemicals of concern that are commonly used in feminine wet wipes, as well as baby wipes, include the following: phenoxyethanol, propylene glycol, polyethylene glycol (PEG), sodium lauryl sulphate, isopropyl myristate, and formaldehyde releasing preservatives such as imidazolidinyl urea. For more information about these chemicals, read health and environment issues.
Natracare Certified Organic Cotton feminine wipes with organic essential oils are free of the damaging and harsh chemicals used in other feminine intimate wipes. The ingredients we use are derived from plants and are certified organic by ICEA/IMO. Dermatologically tested on Human skin.
Certified organic 100% pure cotton
ICEA/IMO certified
Soft and strong
No chlorine
No parabens
No SLS
No alcohol
Not tested on animals
Vegan friendly
GMO free
Highlights

Shipping & Returns
Rated

4

out of

5
by
BR
from
Excellent
I have been using this product for a long time now and based on what I received, there is new packaging. I'm happy to see that it now states that the wipes should not be flushed.
Date published: 2021-03-17
Rated

5

out of

5
by
BR
from
My Fave Feminine Wipe
I love that I don't have to worry about using chemicals on my body as this is a natural product. I trust that it's safe and better for the environment.
Date published: 2020-05-14
Rated

5

out of

5
by
Sassy
from
Excellent product
I have been using these for quite a while now and they are very important and meet my needs extremely well.
Date published: 2020-01-23
Rated

5

out of

5
by
Leeloo
from
Good
This is my second purchase, it doesn't irritate my skin.
Date published: 2021-01-21