Natracare
Natracare Organic Tampons with Applicator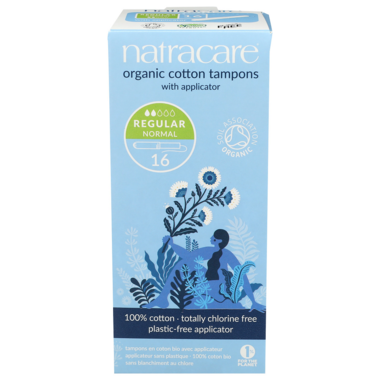 Natracare
Natracare Organic Tampons with Applicator
Regular
16 Count
Natracare Organic Tampons with Applicator
is rated out of
5
by
10
.
---
Description
Natracare tampons were developed as a direct response to health and environmental concerns about dioxin pollution caused by chlorine bleaching, the extensive use of pesticide spraying on conventionally grown cotton, and the use of rayon and other synthetics in tampons.

Natracare tampons are made from only certified organic 100% cotton and are the only fully certified organic cotton tampons available in the world today. They are non-chlorine bleached and women can be reassured that they do not contain synthetic materials, such as rayon, or chemical additives such as binders or surfactants. Certified organic cotton removes the risk of direct exposure to residues from chemical pesticides and fertilizers used on traditional cotton.

The applicators have a rounded, petal-shaped end that makes inserting the tampon easier and more comfortable. The applicator is made from biodegradable card.
Highlights

Rated

5

out of

5
by
tarika
from
Great product
I will admit there is a bit of a learning curve, especially coming from someone who always used a plastic applicator. However, the environmental and personal benefits of using this tampon outweigh it all! Make the switch, you'll be happier for it. Also, well ships really quickly! I've never waited more than 2 days for something to arrive.
Date published: 2020-01-24
Rated

5

out of

5
by
CurlyShe
from
A must for every woman
This item is a staple. Organic, chemical free tampons for your most intimate parts. I stopped using conventional after I found out all the harsh chemicals they use; and to think every month I've been using them thinking they are safe. I'm so glad I found my safe and effective alternative. Highly recommend!
Date published: 2021-07-27
Rated

5

out of

5
by
L
from
Very happy with these
I am so glad to have found all natural organic tampons that works! I will never go back to regular toxic tampons. These are easy to use and work very Well! I will be getting some of the super ones as well for heavier days. Great product!
Date published: 2020-06-27
Rated

5

out of

5
by
mamapow
from
The best natural tampons
I've been using this brand for years - organic, bleach-free is important to me. I notice a huge difference compared to conventional tampons.
Date published: 2021-08-12
Rated

3

out of

5
by
dev
from
Applicator fail
I found these quite uncomfortable and I sometimes had to toss the tampon because I couldn't get the applicator to work at all.
Date published: 2022-06-08
Rated

1

out of

5
by
Danogirl
from
Applicator doesn't work
It's impossible to use the applicator in these. It doesn't slide, it's painful, it's useless, they leak, these aren't good.
Date published: 2022-11-23
Rated

5

out of

5
by
MaryD
from
Organic Tampons
Been using these for years. I feel better I'm using something non toxic and work just as well. Very important to me.
Date published: 2021-03-12
Rated

4

out of

5
by
Beth
from
Good product for women
Happy with the product overall, just the card board applicator does not glide as easy as a plastic one.
Date published: 2021-03-08