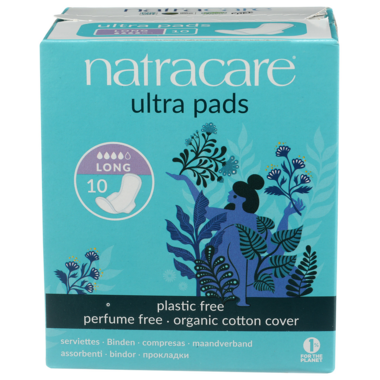 Long
10 Count
Natracare Ultra Pads with Wings
is rated out of
5
by
41
.
---
Description
Women today are conscious of the need to restrict their contact with synthetic materials and unnecessary chemicals and additives. They are becoming more aware that most of the widely available sanitary pads sold today, contain a blend of chlorine-bleached pulp, polypropylene, polyacrylates and plastic.
For each monthly cycle, it makes sense to choose a pad that is made from natural materials. Many gynaecologists have advised women with sensitive skin to use natracare pads to reduce their contact with chlorine bleached materials, and also products containing synthetics, latex and super absorbents made from petrochemicals. Every year, billions of plastic laden pads are disposed of, and generally they end up in landfill sites to sit unaltered for hundreds of years. Every year, in Britain alone, we would have to dig a hole three hundred feet deep and three hundred feet wide to bury the sanitary pads that are thrown away.

Natracare chemical free pads are high quality products made from only pure and natural materials that are made from plant cellulose. They are not chlorine bleached and are free of rayon, plastics and other similar synthetic materials that have a negative impact on our environment. They are comfortable and reliable and available in different absorbencies and styles. The regular pad is narrower towards the middle of the pad so that it fits the contours of the body more readily, whilst the Slender and Super pads are the same width all along the pad's length for a more traditional fit. The Ultra with wings is a slim pad with the added protection of wings. They are individually wrapped so that they can be kept discretely in your bag.

Non-chlorine bleached . Perfume free . Natural materials . Extra soft cover . Plastic free . Biodegradable . Vegan friendly . GMO free . Organic cotton .

Highlights

Rated

4

out of

5
by
S
from
No more redness, rawness, and irritation from my pads - YAY! Wish that I had found these years ago. My only problem with this brand is trying to figure out the size of the pads. What I've figured out so far is the super is the same size as the regular in other brands and the long is similar to super/long in other brands and the Ultra means thins. Still, I highly recommend these to anyone considering them, especially if you get irritated by the national brands. 4 stars only because figuring out the size/absorbency is not so clear.
Date published: 2012-04-01
Rated

4

out of

5
by
Imogen
from
I use these for overnight on my heavy day. They work perfectly, but likely wouldn't during the day while I am moving and working. Like the others, they don't have enough adhesive to stay put- my only complaint. I much prefer cloth pads, but while I must use disposables (I haul water and washing pads requires more availability of wash-water than I have), these are fine.
Date published: 2012-06-20
Rated

3

out of

5
by
Kristy-Lynn
from
These pads are comfortable and inexpensive. They are great if you have sensitive skin. The only issues I have found is that they bunch and twist and come apart easily with normal wear. They also tend to be a bit too slender so I've had a few leaks but small amount. I do like this product and will continue to use them.
Date published: 2012-05-28
Rated

1

out of

5
by
sarah
from
They have changed the way they make this product. New pads are stiff - not very comfortable to wear anymore! I used to love these pads... five star all the way... now... I can't stand to wear them... 1 star.
Date published: 2009-11-23
Rated

4

out of

5
by
Marissa
from
I am primarily a tampon user only, with just a light pad as back-up. However, I use these at night (again as a back-up) and so far, they seem pretty good. They do a decent job with absorbency and I really love how earth-friendly they are. The only downside is the back is very long and tends to twist and bunch over night. Nothing drastic but if there was an emergency overnight, I'm not sure they'd hold up all that well. However I did use them while hiking and they stayed nicely in place!
Date published: 2016-04-22
Rated

5

out of

5
by
RachelM
from
Trusted brand and quality
The only organic pads that are actually long enough. I wear a size large so regular sized pads were never enough. The pink box-long are also good size and do not leak.
Date published: 2021-04-30
Rated

5

out of

5
by
Kimberly
from
When using regular pads (Always), I used to get really irritated by them. I'd get all red and itchy, and so I began looking it up online. I discovered that many women have the same problem, and a few people said that it might be a sensitivity to the chemicals in the pad. So I went on a hunt, looking for a more natural alternative and found these. They are fantastic, and I highly recommend them. They are comfortable, but most of all... I don't get irritated by them at ALL! So I don't know what Always is going on about when they tell you to have a "Happy Period" when their pads leave you feeling irritated, but I know with these NatraCare pads that it's as close as I am going to get to having a Happy Period, that's for sure... Thanks for a great product! They ARE a little pricey, that's the only downside... but they are worth the extra cost.
Date published: 2011-04-18
Rated

5

out of

5
by
Kat
from
Very comfortable to wear due to cotton, but it doesn't absorb & keep liquid at bay during times of heavy periods. Best used at start or end of period when flow is lighter, otherwise it can get rather messy because liquid just sits on top of the pad and goes everywhere. Other down side is the expensive price, but when used on less heavy days, I don't even use up one box, just less than what's inside a single box.
Date published: 2014-12-29