Natren Bifido Factor (Large Intestine)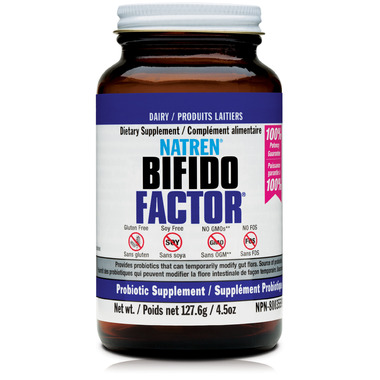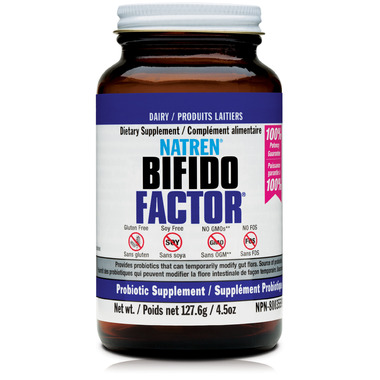 Natren Bifido Factor (Large Intestine)
Natren Bifido Factor is a great colon-cleanse choice! Don't let a sluggish colon make you miserable. Residues and wastes can build up in the colon. Bifido Factor can help keep your colon in perfect working order.
Bifido Factor is Step 2 in Natren's 1-2-3 Probiotic System.

Features & Benefits:
Supports production of soothing lactic acetic acid, which can lower the pH of the large intestine and promote a healthy digestive environment
Colon function
Production of B vitamins
Large intestine health
Repopulation of the colon with bacteria essential for good health
Natren's Bifidobacterium bifidum Malyoth super strain is one of the best probiotic properties of the Bifidobacterium genus. Natren's super strains prefer to reside along the large intestine (walls). The large intestine serves as the body's waste management system. It needs specific flora to help it maintain a healthy balance, which Bifidobacterium bifidum provide.
Each serving of Bifido Factor provides a minimum of 2 billion cfu of Bifidobacterium bifidum Malyoth super strain.
A note about dairy based probiotics:
Dairy milk is one of the original foods that these bacteria thrive on, which is why they are called Lacto bacilli, meaning milk bacteria. Ayurveda, a Hindu system of traditional medicine used in India for over 5000 years, is devoted to using dairy products, as milk is considered the pure love of the cow for her calf. Ayurvedic doctors and pharmacists highly recommend dairy products to their patients. Natren is one of the few custom probiotic manufacturers to still use dairy as a growth medium for beneficial bacteria.
Please be advised that Well.ca follows manufacturer guidelines for storing & shipping probiotics. This product will be shipped with an ice-pack to maintain product efficacy.