Natren Healthy Trinity Probiotic Capsules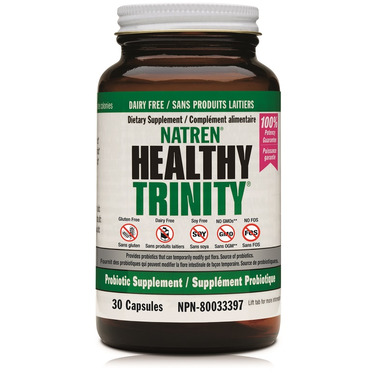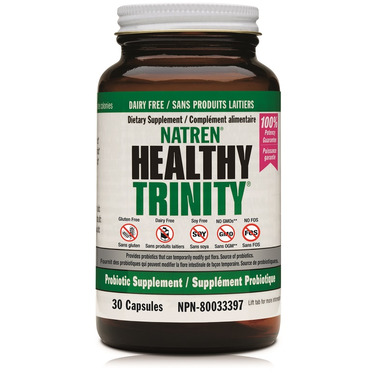 Natren Healthy Trinity Probiotic Capsules
This amazing three-in-one probiotic supplement is Natren's most potent and popular product. Each non-dairy probiotic capsule contains a minimum of 30 billion colony forming units (cfu) of three potent, super strains of beneficial bacteria.
Natren's Healthy Trinity uses only bacteria super strains developed through years of research. These bacteria strains have proven to be the most beneficial for specific regions or functions of the gastrointestinal tract.
Natren's unique proprietary Trenev Process® ensures unmatched survivability and stability of the live bacteria. This cutting-edge technology uses an oil-matrix system to micro-enrobe each of these three super strains of beneficial bacteria to keep them separated, noncompetitive and virtually 100% protected from the stomach's gastric juices.
Healthy Trinity's bile-resistant super strains are then released directly into the small intestine in the next stage of digestion, when bile breaks down the oil carrier and allows the beneficial bacteria to disperse through the gastrointestinal tract.
Features & Benefits:
Dairy free
Three-in-one oil matrix system within a two-piece hard gel capsule
Hydrogen Peroxide (H2O2) production for digestive health
Provides against occasional gas
A slightly acidic environment necessary for intestinal health
Regularity
Digestion of dairy products by assisting with lactose metabolism
Digestion of carbohydrates and proteins
Production of B vitamins
A gastrointestinal problem such as occasional irregularity or minor indigestion can undermine your health. Natren Healthy Trinity® probiotics may be the answer for you!
Healthy Trinity® is recommended for adults and children over eight years of age. Children eight years old and younger should take probiotic powders or chewable probiotics to avoid possible choking hazards from swallowing probiotic capsules.
Each non-dairy Natren Healthy Trinity probiotic capsule provides a minimum of:
Lactobacillus acidophilus, NAS super strain, 5 billion cfu (colony forming units)
Bifidobacterium bifidum, Malyoth super strain, 20 billion cfu
Lactobacillus bulgaricus, LB-51 super strain, 5 billion cfu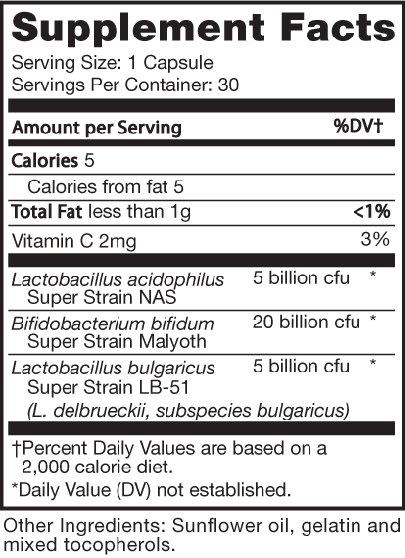 Please be advised that Well.ca follows manufacturer guidelines for storing & shipping probiotics. This product will be shipped with an ice-pack to maintain product efficacy.