Natren Life Start (Dariy-Based) Probiotic Powder
Dairy Powder
35.4g/1.25 oz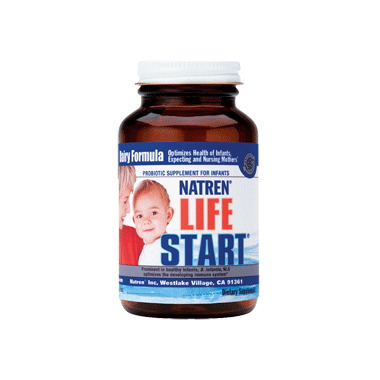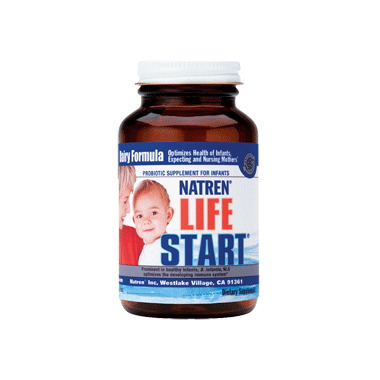 Natren Life Start (Dariy-Based) Probiotic Powder
Dairy Powder
35.4g/1.25 oz
Natren Life Start dairy powder gives infants and toddlers the best start in life! Natren Life Start contains the Bifidobacterium infantis, the most beneficial bacteria predominant in healthy infants. If born by Caesarian Section, babies do not receive this initial boost of important beneficial bacteria.
Each serving of Life Start provides a minimum of 1 billion Bifidobacterium infantis, NLS super strain. Recommended for children over the age of one. For infants, mix 1/4 tsp. (.5 gram) with non-chlorinated water or breast milk into a smooth thin paste. Administer using a clean fingertip or apply to breast nipple and let the infant suckle. For toddlers mix it in water, non-acidic juice (e.g. apple, grape), apple sauce or yogurt.
For infants over the age of one (1) year old. Features & Benefits:
Supports the gastrointestinal system
Supports a healthy digestive environment
For breast-fed babies who may also need this advantage
For formula fed babies (Mother's milk encourages beneficial bacteria growth and studies have shown that formula does not.)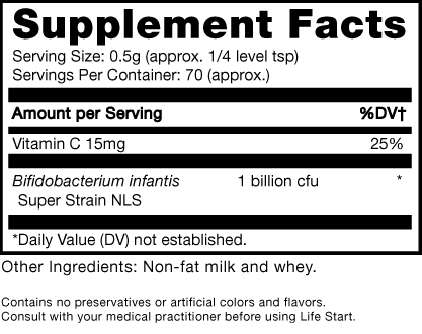 Contains Dairy (cow's milk). Do not use if allergic to Dairy.
Please be advised that Well.ca follows manufacturer guidelines for storing & shipping probiotics. This product will be shipped with an ice-pack to maintain product efficacy.