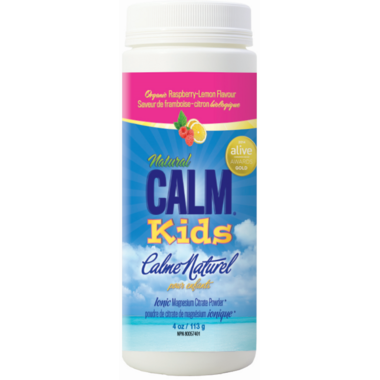 4 oz
Natural Calm Kids Calm Raspberry Lemon
is rated out of
5
by
8
.
---
Description
Natural Calm Magnesium Citrate ionic formula absorbs quickly to balance calcium and relieve symptoms of magnesium deficiency like insomnia, headaches, muscle pain, constipation. Ideal for kids to help with sleep, growing pains and ADD.

Directions:
Children (1-3 years) - 1/4 teaspoon daily. Children (4-8 years) - 1/2 teaspoon daily. Adolescents (9-18 years) - 1 1/4 teaspoons daily.

Ingredients:
Magnesium Carbonate, Citric Acid, Organic Stevia, Organic Raspberry Lemon flavor

Highlights

Shipping & Returns
Rated

5

out of

5
by
Jennifer H
from
Tastes great
I needed a magnesium supplement for my daughter who suffers from constipation. She likes the taste (and fizz) of this and I'm noticing a difference in her bowels for the better!
Date published: 2020-06-07
Rated

5

out of

5
by
Sammy
from
Great taste
I give this 1 hour before bed, my kids love the taste. Magnesium is so important for health and helps calm the body to prepare for sleep.
Date published: 2020-08-20
Rated

3

out of

5
by
CHuckle317
from
Strong lemon taste
My kids don't like the strong lemon flavor. Can't taste raspberry in it. Added a bit of sugar to take away the lemon helps. Not sure it's helping with sleep or anything yet.
Date published: 2020-12-26
Rated

3

out of

5
by
JLT
from
Not my favourite. Gummies are better.
We bought this when the gummies by Natural Calm became unavailable. My kid hates this stuff. I also tried it as she tells me it is too sour for her & she is absolutely correct! It also makes me burp massively after drinking. Please bring the gummies back or change the flavour of this. I have been told the cherry was good but have never been able to find it.
Date published: 2022-04-10
Rated

5

out of

5
by
Mandymandibuler
from
Love this stuff!!
My kid's are obsessed with their "vitamin water" and ask for it when I haven't given it to them for a few days. My 4.5 yr old doesn't mind the taste (whether hot or cold), my 3.5 yr old definitely doesn't love the taste, that being said, I pump a shot of lemonade squirt in it too and she drinks it. My son says it makes his muscles stop hurting (and I notice they sleep more soundly.
Date published: 2022-03-15
Rated

4

out of

5
by
Boymom
from
Good for growing pains
This seemed to help my son with his leg cramps! He hasn't complained about it since he started taking this. Wish it tasted better with water, but I just mix it with orange juice instead
Date published: 2022-05-17
Rated

5

out of

5
by
Sd
from
Before bed routine
My eldest uses this before bed as she has a hard time winding down some nights. It's not a sleep aid so it doesn't make her tired but it does help her have a better sleep.
Date published: 2021-01-01
Rated

4

out of

5
by
Amanda
from
Mixes well
My kids enjoy the taste and that it has a bit of fizz so they feel like it's like a pop! There have not been any growing pain complaints since we started using it!
Date published: 2020-10-15