Natural Calm Magnesium Citrate Powder plus Calcium
Original Flavour
453 g (16 oz)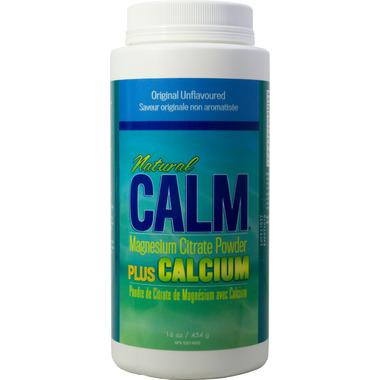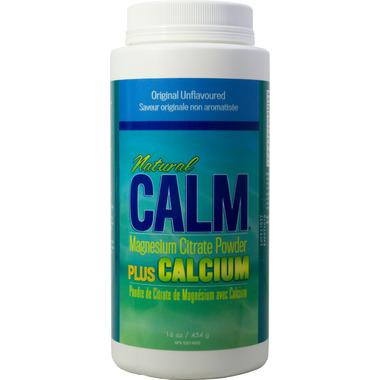 Natural Calm Magnesium Citrate Powder plus Calcium
Original Flavour
453 g (16 oz)
The Anti-Stress Drink!
Formulated with a 3:2 magnesium to calcium ratio, Natural Calm Canada's magnesium citrate powder plus calcium should only be used when additional calcium supplementation is required. This powder contains selected bone-builder nutrients and is one of the only supplements formulated with more magnesium than calcium to help restore mineral balance.
Features:

Balances calcium intake
Restores healthy magnesium levels
Helps your muscles and nerves function properly
Keeps your heart rhythm steady
Supports a healthy immune system
Directions for Use:
Pour about ½ cup slightly cooled boiling water, or very hot water into a cup or glass. Add powder, let fizz, let settle and stir. Add to favourite hot or cold beverage, or enjoy like a cup of tea.
Ingredients:
Magnesium Citrate, Magnesium Ascorbate, Calcium Gluconate, Potassium Citrate, Ascorbic Acid, Vitamin D3, Boron Citrate.
Non-medicinal ingredients:
Citric Acid.
Nutrient Value (per 2 teaspoons):
Magnesium 300mg, Vitamin C 250mg, Calcium 200mg, Potassium 99mg, Boron 250mcg, Vitamin D3 100 IU's

Amanda:
more than a year ago
Had to get the bigger size this time around because this stuff if amazing! Helps with muscle pain from intense workouts, helps me to sleep fantastically and I have never been constipated since taking this (because of the magnesium). I love the taste although very strong and acidic, it is so easy to dissolve and drink. I just use it in a bit of cold water and down it about 30-60 minutes before bed!
Page
1