Natural Immix B Complex 100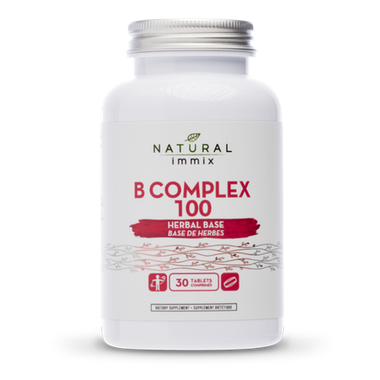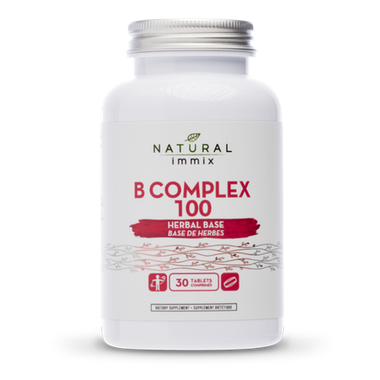 Natural Immix B Complex 100
- We're sorry, this product is no longer available!
- Shop for other products in: Vitamin B

B vitamins help the body to maintain nutrients.
B Vitamins
work together in a group to provide the body with energy and to keep the brain and nervous system healthy. They convert protein, carbohydrates and fats into energy and synthesize brain chemicals to help your mood and nerves. B Vitamins are usually found together in the same foods and work as a team in our body. In fact, they have so much in common as a group that they are often considered a single entity.
Many of us do not get enough B Vitamins; according to health professionals, deficiencies in Folic Acid, B12, and B6 are especially common. Additionally, because B Vitamins are required to break down caffeine and refined sugars, consumption of them may deplete and use up your body's stores of necessary B Vitamin nutrients during the digestive process. Tiredness, irritability, depression and nervousness are some of the many symptoms that indicate supplementation with a Vitamin B complex may be recommended.

Directions:

Take orally 1 tablet per day or as directed by a qualified health care practitioner.

Ingredients:
Vitamin B1 (Thiamine Hydrochloride)100 mgVitamin B2 (Riboflavin)100 mgVitamin B3 (Niacinamide)100 mgVitamin B5 (Pantothenic Acid)100 mgVitamin B6 (Pyridoxine Hydrochloride)100 mgVitamin B9 (Folic Acid)400 mcgVitamin B12 (Cyanocobalamin)100 mcgBiotin100 mcgInositol100 mgPABA (Para-Aminobenzoic Acid)50 mgCholine (Choline Bitartrate)45 mgProprietary Herbal Base Containing:Hops Strobiles, Peppermint Leaf, Chamomile Flower, Rice, Polish and Yarrow Flower15 mgNon-Medicinal Ingredients:Vegetable Cellulose, Magnesium Stearate and Silicon Dioxide.