Natural Polymer Int. N-Bone Puppy Teething Ring Pumpkin Flavor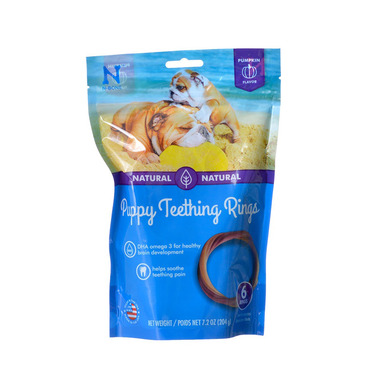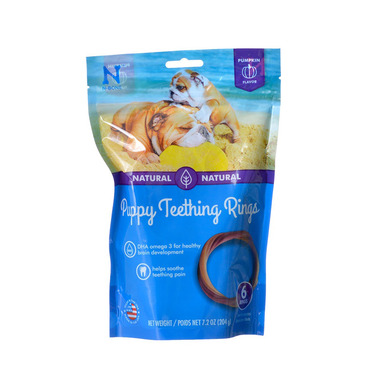 Natural Polymer Int. N-Bone Puppy Teething Ring Pumpkin Flavor
N-Bone Puppy Teething Rings are easy for floppy puppy paws to hold onto and provide a soothing and appropriate outlet for chewing. Formulated with DHA and calcium to support your puppy's unique nutritional needs, our delicious pumpkin flavored rings are pliable and won't damage immature teeth. Made in the USA! Helps relieve teething pain and soreness Edible and digestible Added Calcium for healthy teeth and bones Fortified with DHA Omega 3 fatty acids About 4 inches in diameter
Direction:
5lbs to 10lbs 2-3 per week, 10 lbs to 20lbs 3-4 per week, 20 to 35lbs 5-7 per week
Not for human consumption
Ingredients:
Rice Flour, gelatin, vegetable gylcerin, water, oat fiber, calcium carbonate, sweet potatoes, pumpkin, cranberries, natural pumpkin flavor, citric acid ( a preservative), brewers dried yeast, cinnamon, fennel, algae meal, turmeric.

Natural, with DHA and Omega 3, wheat free, Corn Free and Soy Free

Tess:
a few months ago
Puppy loved his first two of chicken flavour, not so fond of this flavour as much, but now has lost interest in them. I bought 4 bags, 3 of chicken and 1 of pumpkin, great that they are natural and safe. I just hope he becomes interested in them again, as I still have lots left.
Page
1