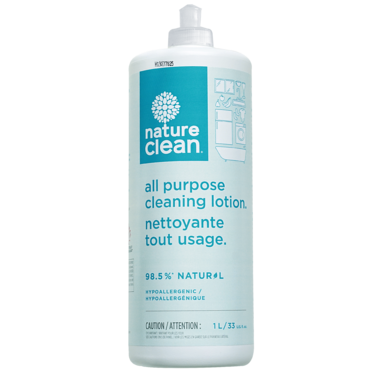 1 L
Nature Clean All Purpose Cleaning Lotion
is rated out of
5
by
57
.
---
Description
It's a "genie in a bottle". This is not your average All Purpose Cleaner -- this one can be used for everything from laundry liquid to hand dishwashing to cleaning Fruits & Vegetables. This was our very first product…developed way back in the early 60's (when All Purpose really meant All Purpose!).

Formulated without Sodium Lauryl Sulphate or Cocamide DEA, both of which are widely found in other traditional cleaning products and are suspected carcinogens. Free of harsh formaldehyde based preserving agents, solvents, dyes and perfumes.

It's manufactured from corn and coconut derived ingredients. Use for washing dishes, light duty cleaning around the home, even in your laundry!

Directions:

For Laundry

:For use in all water temperatures. Safe for infant clothing! Add ½ Cup (approx. 125ml) to a regular size load of laundry in the washing machine. For heavily soiled areas (shirt collars) apply directly to the fabric and rub in thoroughly.

For Dishes:

Use for hand washing dishes ONLY. Not intended for automatic dishwashers.
For Household Cleaning: Great for porcelain, bathroom tiles, floors, countertops, refrigerators, glassware and windows.

For Produce:

Removes surface pesticides, dirt and bacteria. Add ¼ Cup (approx. 60ml) to a gallon (4.5L) of water. Soak produce for up to 10 minutes. Rinse thoroughly under cool water.

INGREDIENTS: Aqua/Water/Eau, Decyl Glucoside(mild plant derived cleanser),Cocamidopropyl Betaine(mild plant derived cleanser), Cocamine Oxide (mild plant derived cleanser) , Sodium Chloride (table salt), Sodium Gluconate ( natural water softener), Cellulose Gum (natural thickener), Magnesium Nitrate (natural Mineral), Magnesium Chloride (natural mineral), Methylisothiazolinone and Methylchloroisothiazolinone (preservative-maintain product freshness and prevents bacteria growth)

Highlights

Shipping & Returns
Rated

5

out of

5
by
Linda
from
I swear by Nature Clean products and this Nature Clean All Purpose Cleaning Lotion is incredible! I use it for everything, even cleaning the bottom of my cat's litter box when I do full litter box change. I seriously have no clue how something unscented can make everything smell so great, but this does that and more! I love using it as a dish soap too, a little goes a long way and a few drops on a sponge is all you need to sanitize and clean everything! I was so happy to find this at Well.ca since it is hard to come by! Please Well.ca, never stop selling Nature Clean!
Date published: 2018-12-17
Rated

5

out of

5
by
Deanna
from
I first used this product (or perhaps it was called something different then, but Nature Clean), in about 1987 when I was diagnosed with environmental sensitivities, and it was recommended by the specialist physician I saw. At that time there were not many natural products available, and I used it to wash clothes, dishes and fruits & vegetables, and to bathe & shampoo. It is also great as an all purpose cleaner around the house. I like that it is barely scented and is safe to use anywhere. My husband & I also like that it is Canadian.
Date published: 2013-05-03
Rated

5

out of

5
by
Farida
from
I would give this product 10 stars if I could. Love, love, love it. I've tried many "green" cleaning products and they all have a smell that bothers me, they don't clean properly or too pricey. Just a few drops of this to a spray bottle full of water, a few drops of tea tree oil or other fav essential oil and you have a month's worth of cleaning product for your entire house. One of this bottle last me for over a year. IT IS THE BEST CLEANING PRODUCT AND THE CHEAPEST. I hope nature clean will always make this and Well.ca will always carry it. Thank you Well.ca.
Date published: 2016-04-09
Rated

3

out of

5
by
Dee
from
Nothing great
I saw all the great reviews and was quite excited. I normally use vinegar or other natural products due to sensitivity to smells. I can tell you vinegar does a much better job. I haven't tossed it yet but so far it's failed for kitchen cleaning and floor cleaning. Maybe that's not where it excels.
Date published: 2021-03-17
Rated

5

out of

5
by
Anna
from
It really is a great product. I've been using it all the time ever since I discovered it a few years ago. It's hard to find in stores, so I'm very glad I can order it here! It's very mild and scentless but cleans really well. And it's literally good for everything! The only thing it's not as great for, is laundry, I found. But I clean houses for a living and I always use this cleaning lotion. You can also make a spray out of it - pour some in a spray bottle and add water, and some essential oils if you want it to have a scent! The bottle last for a while.
Date published: 2017-03-20
Rated

1

out of

5
by
Julie
from
This product is not suitable for me as there is a chemical in it that triggers mty symptoms of MCS. I am writing this review for people like me are very sensitive and who suffered from MCS (Multiple Chemical Sensitivity) and are trying to find adequate products. To this date I have not found any cleaning product that doesn't trigger my MCS.
Date published: 2013-08-30
Rated

5

out of

5
by
Rachelle
from
Excellent quality product. I dilute with water 50% for handwashing dishes. Don't expect the same level of suds as typical dish soaps or castile soap. I actually like this about it -- it doesn't leave streaks on my black appliances and rinses quickly and thoroughly. It cleans perfectly and is even safe to use on produce.
Date published: 2013-08-06
Rated

5

out of

5
by
SK
from
I keep a bottle under the kitchen sink and have used it for dishes, counter tops, hands, cleaning the butcher block, and washing the sink and faucet. It makes my stainless steel sink shine like no other product ever has. Will always have a bottle of this on hand, it's great.
Date published: 2011-07-22