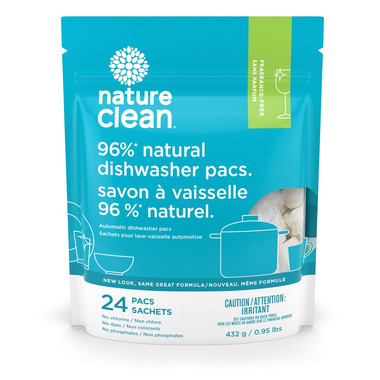 Description
No need for a hazmat suit when you do your dishes! Breathe easy, it works!
Nature Clean has created super concentrated Automatic Dishwasher Pacs without compromising on ingredients. They are awesome for removing tough baked-on food, grease and stains from dishes without the use of harmful chemicals and without leaving any residues behind.
Unscented and hypoallergenic, you won't experience the irritating odours you can with other auto dish pacs.
Additional Features:
Not tested on animals and contain absolutely no animal ingredients (Vegan)
Created Without: Phosphates, EDTA or NTA (phosphate replacements), Chlorine, Sulphates (Sodium Lauryl Sulphate or Sodium Laurel Ether Sulphate), Synthetic Perfumes or Dyes
Ready to use! 1 pac = 1 load
Ingredients:
Sodium Carbonate (natural washing soda), Sodium Citrate (plant derived natural water softener), Citric Acid (plant derived water softener), Aqua/Water/Eau, Sodium Carbonate Peroxide (oxy stain remover), Sodium Silicate (alkalinity booster), Zeolite (natural anti-caking agent), Sodium Polyaspartate (biodegradable water softener and anti-spotting agent), Sodium Sulfate (natural mineral), Sodium Metasilicate (natural alkalinity booster), Linear Alcohol Ethoxylate (biodegradable low foaming cleaning agent), Enzyme Blend (natural soil removers), Poly Vinyl Alcohol (water soluble film)
Highlights

Shipping & Returns