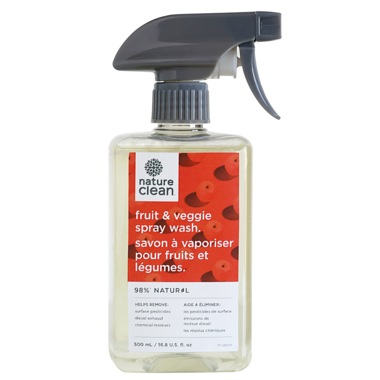 500 mL
Nature Clean Fruit and Veggie Wash Spray
is rated out of
5
by
63
.
---
Description
Most pesticides can't be removed from produce with water alone because they are designed to be water resistant. This way, they won't wash off in the rain. Fruit & Veggie Spray Wash was designed for easy-to-clean produce such as apples, tomatoes, and bell peppers. Our formula has no taste, is odourless, residue-free and helps remove surface pesticides, chemicals, bacteria, wax and dirt. For produce which requires soaking such as grapes, broccoli and spinach, we recommend our Fruit & Veggie Wash Concentrate.

Even organic produce should be washed. It can be exposed to everything from contaminated irrigation water to fertilizers, animal feces and human contact.

Ingredients: WATER, SODIUM LAUROYL SARCOSINATE (FOOD GRADE CLEANSER FROM PALM OIL), CARBOXY METHYL CELLULOSE (CELLULOSE GUM), WITCH HAZEL (NATURAL ASTRINGENT), CITRIC ACID, POTASSIUM SORBATE (FOOD GRADE PRESERVATIVE)
Highlights

Shipping & Returns
Rated

1

out of

5
by
Koral
from
Unfortunately, one of the main ingredients of this product in palm oil -the production of which is very controversial as it usually involves mass displacement of indigenous communities, systematic slaughter of orangutangs, and clearing of hundreds of hectares of natural habitat. Disappointed to see this.
Date published: 2012-03-26
Rated

5

out of

5
by
C A
from
Always keep it in my kitchen!
The packaging changed recently but it's still the same great fruit & veggie cleaner I've been using for years. We think it's healthy to eat the skin, so being able to wash it first with a product that is made in Canada, that does not smell like a cleaner, and that washes off easily, is great! My only suggestion for improvement would be for the manufacturer to replace the plastic with a glass bottle dispenser.
Date published: 2020-01-31
Rated

5

out of

5
by
Karmin
from
I'm so glad I found this product, because I used to wash my Fruits and Veggies with Dish wash soap. (I know I'm crazy) but I thought, well its better soap then germs or other diseases! I absolutely LOVE this product. There is a tiny bit of scent but after a good wash its gone, plus the scent is all natural so its not a big deal!
Date published: 2012-02-28
Rated

2

out of

5
by
Elaine
from
I love this stuff but why did they change the ingredients? I still have the old bottle and it doesn't have palm oil. This new one does. The old formula worked fine without it! I'll have to find a new one now.
Date published: 2019-11-15
Rated

5

out of

5
by
Emily
from
I bought the concentrate as well and Im never letting myself go without this again. It takes wax off of apples without leaving a residue. It rinses off very easily and doesnt make your produce taste or smell weird. The scent is very mild and very fresh. Smells kind of like a breath of fresh air and clean water, and im sure they didnt even do that on purpose because its so mild.
Date published: 2016-04-14
Rated

5

out of

5
by
Melissa
from
Love the smell and it suds up well on produce, also used it to soak some strawberries I bough from the supermarket (said they were pre washed) after about 5 min the water was grew EWW!! Even makes the skin on my apples feel better! When I bought this I bough a few other Nature Clean product and I love them all, I will be switching everything in my house!
Date published: 2012-06-22
Rated

5

out of

5
by
sara
from
every home should have this in the kitchen , it's clean amazing , doesn't change the taste , now I can eat my apples with skin and enjoy my fresh raisins ... I notice with this product I last long time , specially for cleaning the tomato , raisins , apples , cucumber , green peppers and red etc... in love with this product now
Date published: 2015-11-20
Rated

4

out of

5
by
Mkay
from
Easy to use and great results
I love this spray! the wax on my fruit and vegetables wash off without having to scrub. The only reason why I don't give it a 5/5 rating is because of the scent of the wash. The upside is that there aren't any additives to make it 'nice' smelling and that the tradeoff of how well the product works overrides the smell!
Date published: 2020-04-04