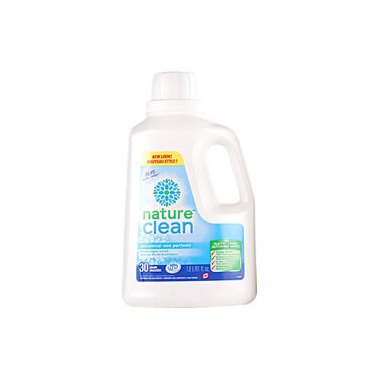 Description
Clean laundry doesn't have to cost the world!

Who wouldn't like their whites brighter? But what if it's all just an illusion?
Laundry detergents that promise they'll get white clothing "whiter than white", use optical brighteners (synthetic chemicals that convert UV light to visible light, making laundered clothes only appear to be "whiter.") Basically, they trick the eye. Plus they don't readily biodegrade and they bind to the skin and can cause allergic reaction when skin is exposed to sunlight.

Nature Clean hypoallergenic Laundry Liquid will help you get your family's clothes nice and clean NATURALLY without using any optical brighteners or other harmful, toxic chemicals.

It's formulated without enzymes, phosphates, EDTA & NTA (phosphate replacements which are environmentally hazardous), chlorine bleach, synthetic dyes & perfumes, or optical brighteners.

Our low foaming formula is vegetable based derived from corn and palm kernel oil. It's safe for infant clothing and great for High Efficiency top and front loading machines. Unscented and Hypoallergenic, perfect for sensitive skin.

Ingredients: WATER, FATTY POLYGLYCOSIDE (FROM CORN STARCH AND PALM KERNEL OIL), SODIUM CITRATE (SALT OF CITRIC ACID), CELLULOSE COLLIDES (FROM COTTON AND WOOD) AND SODIUM HYDROXYMETHYL GLYCINATE (PRESERVATIVE BASED ON GLYCINE, A NATURALLY OCCURRING AMINO ACID).
Highlights

Shipping & Returns