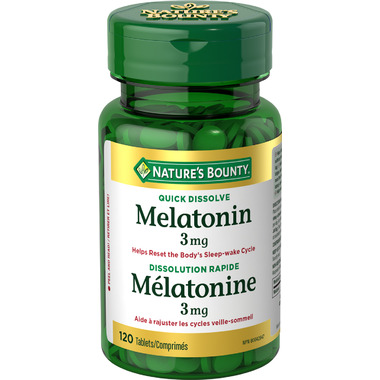 3 mg
120 Tablets
Nature's Bounty Melatonin
is rated out of
5
by
29
.
---
Description
For people suffering from sleep restriction or altered sleep schedule (e.g. shift-work or jetlag), Nature's Bounty Melatonin can help with catching those zzz's.

Adult Dosage (Oral): Adult take 1 tablet daily, at bedtime.
Features
Helps improve total sleep time
Helps reset the body's sleep-wake cycle
Mint Flavour
Ingredients
(Each Tablet Contains): Melatonin - 3 mg Non Medicinal Ingredients: Microcrystalline Cellulose, Croscarmellose Sodium, Magnesium Stearate, Silicon Dioxide.
Shipping & Returns
Rated

3

out of

5
by
sharon
from
It works well, but I was disappointed to read after purchasing that it contains magnesium stearate. I will not putchase again for this reason.
Date published: 2013-10-24
Rated

4

out of

5
by
Glenn
from
Great product that works well for me. Shift work truly wrecks normal sleep patterns, and sometimes it's difficult to get back into "normal human hours". This product has helped me readjust after a series of night shifts, or to get sleep during the day when necessary. Even now, when I don't do shift work, I find it beneficial in improving the length and quality of my sleep. One interesting side-effect is that I seem to have more vivid dreams and/or better dream recall.
Date published: 2012-08-17
Rated

4

out of

5
by
Madeleine
from
This is a good price for the amount of melatonin you are geting, and it does work. The only thing is it doesn't have any flavoring to it. Depending on what you want, this could be a good thing. But I found I like the minty flavored melatonin better. With this I felt like I had a piece of soggy cardboard in my mouth.
Date published: 2012-03-21
Rated

5

out of

5
by
David
from
I have had problems sleeping for over thirty years. I take three pills at bed time and I have a wonderful sleep. I have been on it for almost two years. You don't get drowsy you just a better sleep. When you need to get up you are awake and refreshed.
Date published: 2010-06-19
Rated

3

out of

5
by
Andy
from
Product works well, but sometimes sticks in the back of your throat before you can swallow it. Pills need a harder surface which will not start to dissolve on contact with your tongue/mouth.
Date published: 2012-04-28
Rated

4

out of

5
by
Laura
from
Product works great, however I will agree with the other reviewers, the taste is not very good and it does leave a nasty after taste that is tricky to get rid of even with water....
Date published: 2017-02-21
Rated

4

out of

5
by
Holly
from
Good product, pill size not too big... easy to swallow, good value for the price. I usually prefer the mint flavoured version but these work just as good.
Date published: 2012-12-09
Rated

5

out of

5
by
sandra
from
I am an insomniac looking for a natural approach to getting some sleep. So far this product is helping me so I will keep using it. Very affordable too!
Date published: 2015-07-16