Nature's Bounty Turmeric Curcumin Plus Black Pepper
Nature's Bounty Turmeric Curcumin Plus Black Pepper
is rated out of
5
by
4
.

Turmeric is an ancient herb that has historically been used for its antioxidant and cleansing powers, holding a long history of use in India. Turmeric root offers a natural way to help relieve joint pain.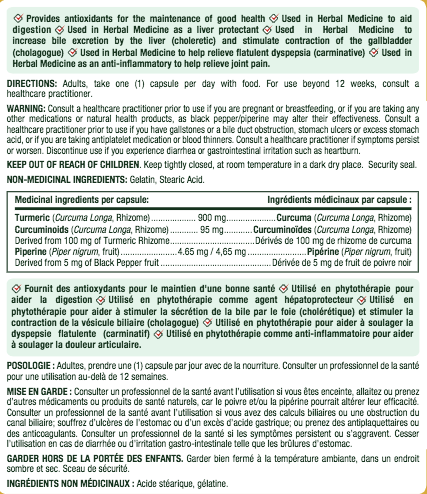 Rated

5

out of

5
by
Melissa
from
The Price! The Active Ingredients! The Size!
After reading up on the best anti-inflammatory and defence against viruses I was drawn like a magnet to this product. It is super concentrated and it has piperine already added (piperine is from black pepper and makes curcumin absorb into your bloodstream way better and stay for much longer) and in a huge bottle so this is the best possible money's worth of turmeric pills that I was able to find. It will probably take months to know if it works and how well, but if any natural supplement works, it would be this. With such a low price and so many benefits I figure it is definitely worth a try.
Date published: 2020-01-24
Rated

5

out of

5
by
Donald62
from
Great for damaged joint repair
First of all I find that Nature's Bounty products are vastly superior to other popular brands. Since this one also contains black pepper, it is better absorbs the Turmeric and hence the benefit to your joints. The addition of Curcumin is an added bonus.
Date published: 2020-06-22
Rated

5

out of

5
by
JUNIE
from
BEST for your buck from Well.ca
I have been taking this for years now.I can't fine Turmeric this strong anywhere and need the benefits for my arthritis and over all health. I love that it already comes with black pepper as I want it obsorbed as quickly as possible into my body. I appreciate when Well.ca has specials so I can purchase the best for less. Turmeric is one of the best anti-oxidants you can take. Be good to your body...take one every day. Junie
Date published: 2020-02-04
Rated

5

out of

5
by
lbirch
from
Great product
Love that this product has the Black Pepper in it as many don't. Despite the fact that the capsules are fairly large, they slide down easily. Since I have been taking turmeric for my arthritis I have significantly fewer flare-ups. Highly recommend this product.
Date published: 2020-09-14