Nature's Bounty Turmeric Curcumin
Turmeric is an ancient herb that has historically been used for its antioxidant and cleansing powers, holding a long history of use in India. Nature's Bounty Turmeric root offers a natural way to help relieve joint pain.
Features:
Take one (1) capsule per day.
Traditionally used in Herbal Medicine as an anti-inflammatory to help relieve joint pain.
Provides antioxidants for the maintenance
of good health.
Used in Herbal Medicine to aid digestion.
Adult Dosage (Oral):
Adults, take one (1) capsule per day.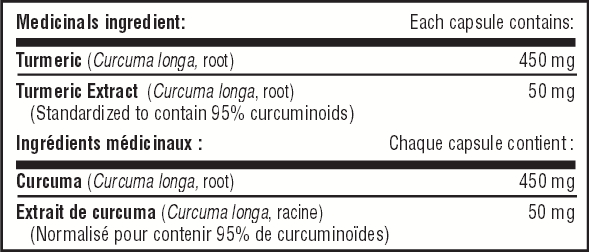 Non-Medicinal Ingredients:
Gelatin, Magnesium Stearate, Silica, Stearic Acid.
WARNING: Consult a healthcare practitioner prior to use if you are pregnant, have gallstones or a bile duct obstruction, or if you have stomach ulcers or excess stomach acid.