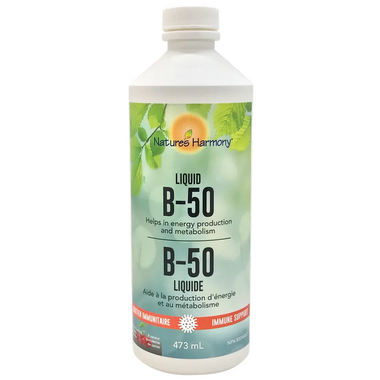 Description
Nature's Harmony Liquid B-50 provides all the B vitamins plus the lipotropic factors choline and inositol. This liquid dosage form, with a great-tasting natural cherry flavour, is a suitable choice for people who have difficulty swallowing capsules.

Although each of the B vitamins has its own unique role to play, as a group, they work together synergistically. The B vitamins are used in almost all parts of the body. They are involved in the metabolism of carbohydrates, which provide energy, and fats and proteins, which help maintain a healthy nervous system. The B vitamins are also essential for maintaining healthy skin, hair, eyes, mouth tissue and muscle tone in the gastrointestinal tract. The additional lipotropic factors promote normal liver function and aid in the transport of fats from the liver.
Recommended Use: Helps the body to metabolize proteins, fats and carbohydrates. Helps normal growth, development and tissue formation.

Recommended Dose: Shake well. Take 1 tablespoon (15 mL) daily with a meal.

Highlights

Ingredients
per tablespoon (15 mL): Pantothenic acid ( calcium d-pantothenate) 100 mg Thiamine (thiamine HCl) 50 mg Riboflavin 50 mg Niacinamide 50 mg Vitamin B6 (pyridoxine HCl) 50 mg Folate (folic acid) 1 mg Vitamin B12 (cyanocobalamin ) 75 mcg Biotin 75 mcg Choline (bitartrate) 50 mg Inositol 50 mg Non-Medicinal Ingredients: Natural cherry flavour, purified water, fructose, glycerink xanthan gum, ascorbic acid, citric acid, potassium sorbate and sodium benzoate.
Shipping & Returns