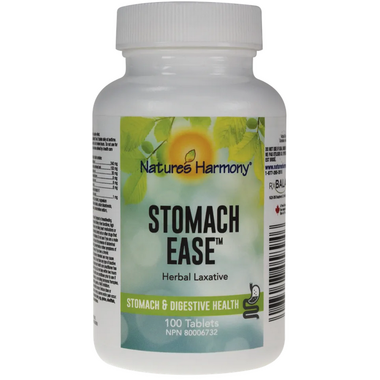 Description
Nature's Harmony® Stomach Ease™ is a herbal formula that acts as a gentle laxative to ease intestinal discomfort and bring safe relief from constipation. Only 100% natural ingredients are used in this formula.

Nature's Harmony® Stomach EaseTM Herbal Laxative contains senna leaves, cascara sagrada bark, licorice root, juniper berries, buchu leaves and oil of peppermint. The herbs in this unique combination have been chosen for their beneficial laxative and diuretic effects.
Recommended use: For laxative effect
Dosage: (Adults): Take 2 tablets daily at bedtime.

Caution:
Do not use if pregnant or breastfeeding. Do not use if you have impaired kidney or liver functions, high blood pressure, heart disease or taking heart medications or thiazide diuretics, corticosteroids, licorice root or other drugs that may aggravate electrolyte balance.
Highlights

Ingredients
Each tablet contains: Senna leaf 240mg, Cascara bark 150mg, Licorice root 30mg, Juniper berry 8mg, Rhubarb root 8mg, Gentian root 8mg, Buchu leaf extract 4:1 1mg. Non-Medicinal ingredients: Corn starch, magnesium stearate, maltodextrin, silicon dioxide, sodium bicarbonate, oil of peppermint, hyprolose, croscarmellose sodium, hypermellose, glycerin.
Shipping & Returns