Nature's Path
Nature's Path Organic Instant Oatmeal Blueberry Cinnamon Flax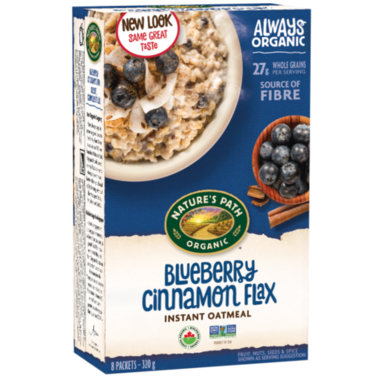 Nature's Path
Nature's Path Organic Instant Oatmeal Blueberry Cinnamon Flax
8 Count
Nature's Path Organic Instant Oatmeal Blueberry Cinnamon Flax
is rated out of
5
by
49
.
---
Description
Oatmeal tossed with flax seeds, roasted soy nuts and blueberries. Delicious and easy to make, Contains 27g of whole grains per packet. Made with only organic and Non GMO ingredients, there's everything to love about this instant oatmeal.

Ingredients: Whole grain rolled oats*, cane sugar*, roasted soy nuts*, flax seeds*, sweetened dried blueberries* (wild blueberries*, apple juice concentrate*, sunflower oil*), cinnamon*, sea salt. *Organic.
Warning: Produced in a facility that uses milk, tree nuts, peanuts, wheat and soy.

Highlights

Shipping & Returns
Rated

2

out of

5
by
Iheartblueberries
from
My blueberries seem to have run away...
I have tried various flavors of your oatmeals, apple/cinnamon being my favorite, and I made the leap to try out something new. I did notice in the apple/cinnamon flavor that there was a lack of apples. I just thought it was that particular batch. Until I tried this flavor. I have yet to find a SINGLE Blueberry. I don't think the Quaker Oats man would do this to me. He would ensure blueberries in every bite! I love the taste of the oatmeal and the higher nutritional content...however, if you are going to advertise it as BLUEBERRY oatmeal, there should probably be some in there. I am debating switching back to ole faithful (re. Quaker)... Hopefully you can make some adjustments and improve the quantity of your blueberries for all you enjoy.
Date published: 2018-04-09
Rated

1

out of

5
by
Oatmeal Girly
from
no blueberries :(
I usually love this brand of oatmeal and it's array of flavors and was excited to try the blueberry flavor when I first came across it. The first pack I ate out of the box was full of blueberries and delicious! Unfortunately, every pack after that had only 1-3 blueberries. I had one this morning that didn't have any. I thought this may have been just a me problem, but other online reviews prove otherwise. Also, that this isn't a new issue, with dates of reviews about the same issue dating back 2 years. very disappointing:(
Date published: 2022-02-17
Rated

1

out of

5
by
KayDay
from
What Blueberries???
I was excited to try this oatmeal as it is getting increasingly difficult to find my favorite blueberry oatmeal. This morning I ate my fourth pack from this box and guess what? There wasn't a single blueberry in it! The first pack: one blueberry. I thought maybe it was a fluke. The second pack: three blueberries. I thought, "Oh yeah, it's getting better I guess?" Nope. Third pack back to one. So out of four packs, I have seen five blueberries. So definitely zero blueberry flavor with this brand. Talk about false advertisement. Is the oatmeal tasty? Kind of, for plain oatmeal, but only after I add sugar in the raw. Nonetheless, if I did not want blueberries in my oatmeal, I would not have bought blueberry oatmeal.
Date published: 2020-02-25
Rated

3

out of

5
by
Shannon
from
What Happened??
I love your products and so do my kids!!! As a Holistic Nutrition Specialist I am very grateful for all of your products! I have bought this many times for my children. They loved it!! The box I just bought recently literally had 0 blueberries or any blue berry flavor. Just flaxseeds, soy nuts and oats. I was wondering why my gorls were not wanting to eat it this morning, until I made a pack for myself. Now I understand! Did a batch go out with out blueberries? I see I am not the only one recently to have this problem either. I will buy again but hopefully there will be blueberries in the next box?
Date published: 2018-04-17
Rated

2

out of

5
by
Disappointed
from
Not the Same Great Taste
Not only are the blueberries missing, the texture is different - more mushy less chewy. I travel for work all week and this was my favorite healthy staple. If you're going to leave the product this way, you need to at least delete blueberry from the title since there's no hint of it in the current packages.
Date published: 2019-04-24
Rated

3

out of

5
by
Oatmeal we.
from
You changed recipe.
I have been buying this for years. And a couple of months ago you changed the recipe. It's mushier now. It has less blueberries. Will go looking for something else. I encourage you to return to previous recipe.
Date published: 2019-05-12
Rated

5

out of

5
by
Bluberry cinnamon
from
The Best Oatmeal Ever Made
Please don't change this oatmeal recipe! It's so delicious and healthy just the way it is. My son and I can't wait to have our oatmeal every morning. I order 24 boxes at a time for the two of us just to make sure we are always stocked. Thanks for the best oatmeal ever made!
Date published: 2018-03-16
Rated

3

out of

5
by
Oatmeal
from
Go back to the previous oatmeal!
We have been purchasing this oatmeal faithfully for over 5 years and we absolutely loved it, kids included. The taste was excellent and it had just the right amount of blueberries in it. Now we have a not so great tasting oatmeal with tons of blueberries. The sweetness is gone due to the amount of cinnamon added to all the extra blueberries. To all the Mothers complaining about the lack of blueberries, an easy and healthier fix would be to add your own blueberries to your own otmeal. Instead of complaining and ruining it for the ones who were truly satisfied with this product. It would also be nice to know when your products have changed before ordering so you know what your getting or what is actually changing with the product. I hope the oatmeal we loved comes back soon!
Date published: 2018-06-01