Nature's Plus
Nature's Plus Animal Parade KidGreenz Tropical Fruit Chews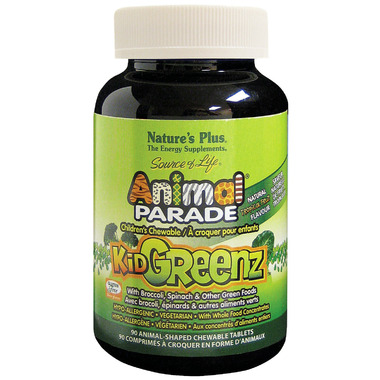 Nature's Plus
Nature's Plus Animal Parade KidGreenz Tropical Fruit Chews
Description
Animal Parade KidGreenz deliver the health benefits of high energy, phytonutrient-rich green superfoods from land and sea in succulent tropical fruit-flavored chewable tablets. KidGreenz Superfood Complex features broccoli, spinach, spirulina, kelp, lactic flora growth accelerants and other nutritional powerhouses that are often absent from kids' diets.
Each chewable animal-shaped tablet contains:
KidGreenz Superfood Complex --- 250 mg
Fructooligosaccharides (Cichorium intybus root) --- 89 mg
Rice seed (Oryza sativa) / Riz, graines (Oryza sativa) --- 60 mg
Carrot root, juice (Daucus carota subsp. sativus ) --- 31 mg
Cucumber (fruit) (Cucumis sativus) --- 20 mg
Spinach leaf (Spinacia oleracea) --- 13 mg
Broccoli florets (Brassica oleracea var. italica) --- 10 mg
Beet root, juice (Beta vulgaris) --- 10 mg
Parsley aerial parts (Petroselinum crispum) --- 5 mg
Spirulina platensis whole --- 5 mg
Alfalfa (herb top) (Medicago sativa L. (fabaceae) --- 5 mg
Norwegian Kelp thallus (Ascophyllum nodosum) (0.15% iodine) --- 1 mg
Inulin (chicory root) --- 1 mg
Non-Medicinal Ingredients: Sucrose, d-fructose, natural mango/ tangerine flavours, citric acid, stearic acid, curcumin, guar gum, magnesium stearate

DIRECTIONS
: Children two years of age and older, chew one tablet daily, or as recommended by your health care practitioner.
WARNING
: If seal around cap is broken or missing, do not use. Consult a health care practitioner prior to use if you have gallstones or a bile duct obstruction, stomach ulcers or excess stomach acid, an iron deficiency, a liver disorder, if you are pregnant or breast feeding, or if you are taking antiplatelet medication
or blood thinners. If symptoms of digestive upset (e.g. diarrhea) occur, worsen, or persist beyond 3 days, discontinue use and consult a health care practitioner.
If you have an immune-compromised condition do not use this product. Allergic
reactions can occur in people allergic to plants of the Oleaceae family. Consult a healthcare practitioner for use beyond 12 weeks.
Hypoallergenic, Gluten Free, Vegetarian
Highlights

Shipping & Returns