Nature's Plus Animal Parade Children's Chewable Multi-Vitamins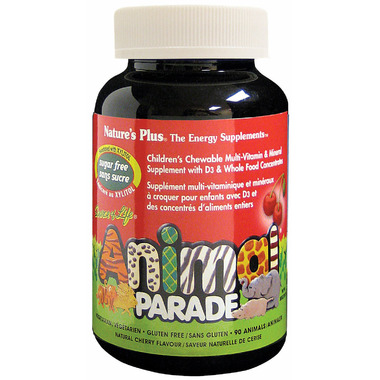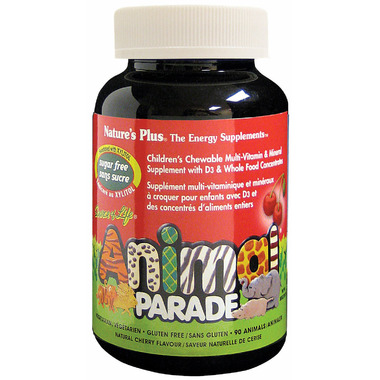 Nature's Plus Animal Parade Children's Chewable Multi-Vitamins
Delicious Natural Fruity Flavors! Source of Life® Animal Parade® children's formula supplies the protection and nutritional assurance all parents seek for their children, along with the great taste and animal shapes that kids love. Each chewable tablet supplies 16 vitamins and 8 minerals, as well as nature's most healthful whole foods, including spirulina, carrot, broccoli, whole brown rice and spinach. Combining the natural goodness of whole foods with a balanced profile of nutrients is what makes Animal Parade a complete dietary supplement formulated for your child.
Features:
This product is hypo-allergenic
This product is gluten free
Each Tablet contains:
Beta-carotene (all-trans beta-carotene)...900 ug
Vitamin C... 300 mg
Vitamin D... 5 ug
Vitamin E 10 mg AT
Thiamine... 750 ug
Ribflavin.... 850 ug
Niacin.... 7.5 mg
Vitamin B6..... 1 mg
Folate.... 15 ug
Vitamin B12.... 3 ug
Biotin.... 25 ug
Pantothenic Acid... 5 mg
Calcium.... 65 mg
Iron... 2.5 mg
Iodine... 50 ug
Magnesium... 12 mg
Zinc.... 1.5 mg
Copper.... 35 ug
Apple Fruit Pectin.... 25 mg
Bioflavanoids.... 10 mg
Choline.... 5 ug
Inositol.... 5 ug
Sunflower Seed Oil.... 10 mg
Rose Hips... 0.5 mg
Broccoli Florets.... 0.5 mg
Spinach Leaf.... 0.5 mg
Mango Fruit.... 0.5 mg
Carrot Root.... 0.5 mg
West Indian Cherry.... 0.5 mg
Papaya.... 0.5 mg
Pre-chelate:
aqueous-blended with hydrolyzed rice protein
Non-Medicinal Ingredients:
Xylitol, Citric Acid, Guar Gum, Natural Cherry Flavour, Magnesium Stearate, Whole Brown Rice, Hydrolized Rice Protein.
Free from sugar, gluten, yeast, wheat, soy, and milk.

DoubleD:
a few months ago
The ingredients are the selling feature of these multi-vitamins. We wanted something that was more natural and didn't have any fake sweeteners (like aspartame). I have two young children that both like the taste and they both eat them with no problems every morning. I don't know if this was a fluke or not, but there was a perfect amount of the animals in our first bottle! (I have to give the same animal to both kids). I only took one star away because they are a bit on the expensive side... but I'll keep buying them.
tdotmakeupgirl:
more than a year ago
I love the ingredients in these. I used to use the Sisu kiddie super multi-powder for multi-vitamin for my son, but now that this has been unfortunately discontinued, I needed to find something else. The fact that they use xylitol instead of sugar is great in my opinion, and I appreciate the fact that they ingredients are clearly stated as whole-foods derived. The downside to them is that my son finds the taste to be extremely unpalatable. I don't think they are so bad, but perhaps for children they are.
Page
1