Nature's Way Feverfew Leaves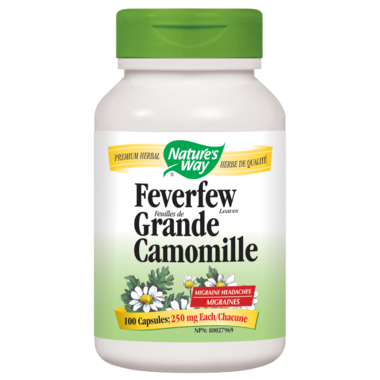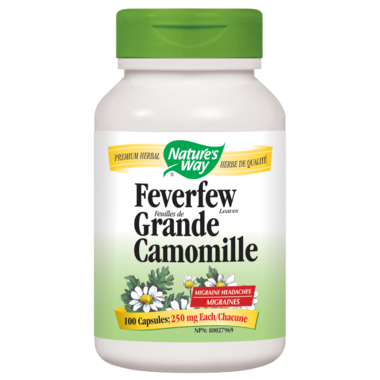 Nature's Way Feverfew Leaves
Feverfew has been traditionally used to support blood vessel tone. Nature's Way Feverfew is harvested at peak potency.
Directions:
Take one capsule daily. Take with or after food. Reduce the dosage gradually if treatment is to be paused or discontinued. Use for a minimum of 4-6 weeks to see beneficial effects. Consult a health care practitioner for use beyond four months.
Medicinal Ingredients (per capsule):
Feverfew leaf powder (Tanacetum parthenium) ... 250 mg
Other Ingredients:
Gelatin, microcrystalline cellulose, silica, magnesium stearate.
Warning:
Consult a health care practitioner if symptoms persist or worsen. Consult a health care practitioner prior to use if you are if you are taking bloodthinners.
Contra-Indications:
Do not use if you are pregnant or if you are allergic to plants of the Asteraceae/Compositae/Daisy family. Known Adverse Reactions: Some people may experience sore mouth, mouth ulcers and/or gastrointestinal discomfort. Hypersensitivity, such as allergy, has been known to occur; in which case, discontinue use immediately.
WENDY:
a few months ago
I've been taking Feverfew daily (except during 2 pregnancies) for three decades. For some migraine suffers, it reduces the frequency and duration of migraines. It works for me, and I went from 18+ hour migraines to approx. 4 hour migraines. I still get all the same symptoms (aura prior too, light, sound, scent, touch sensitivity, after affects of shakiness, etc.) but the severe pain part is about 4 hours.
Nature's Way was shown in a study to contain the actual concentration and amount of feverfew to actually be effective (many brands don't due to a lack of regulation), and I was sometimes having a hard time finding it in stores.
It's so much more convenient and reliable to be able to order through Well.ca!
My head thanks you!
Anne:
about a year ago
Was diagnosed with Chronic migraine 5 years ago and started taking this 2 years ago. It does reduce the intensity and duration of the migraine, but not really a prophylactic . Oregano oil caps will reduce the number of migraines and is highly recommended. I take both so maybe it is the combination.
Page
1