Nature's Way Pepogest Peppermint Oil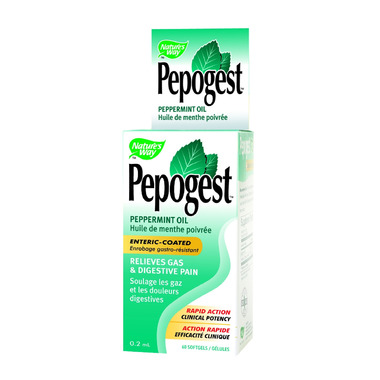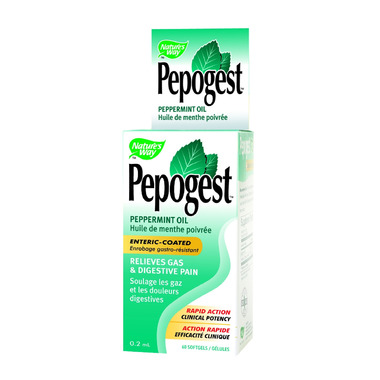 Nature's Way Pepogest Peppermint Oil
Pepogest provides natural gastrointestinal comfort. The essential oil found in peppermint leaves soothes the occasional disruptions in the bowel often caused by nervousness, overeating and/or changes in the diet.
Pepogest softgels are uniquely enteric-coated to withstand stomach acid and target the release of peppermint oil directly into the intestinal tract. Research confirms that peppermint oil is more effective and better tolerated when protected from stomach acid.
Directions:
Adults: Take 1 softgel 1-4 times daily with water.
Medicinal Ingredients (per softgel):
Peppermint oil (Mentha x piperita) ... 0.2 mL
Other Ingredients:
Soybean oil (organic, non-GMO), gelatin, glycerin, purified water.
Warning:
Consult a health care practitioner if symptoms persist or worsen. Consult a health care practitioner prior to use if you are pregnant or breastfeeding, if you have gallstones, anaemia, hiatus hernia or gastroesophageal reflux.
Notes:
Pepogest™ is a trademark of BioTherapies Inc.
Laura:
about a year ago
I tried these capsules because a friend told me they would help with my symptoms of IBS. I find that they do work - I take one about 45 minutes before supper and I find that the next morning my symptoms are greatly reduced. The peppermint oil is soothing to the digestive tract and seem to calm down the spasms that occur in IBS. The downside to these capsules is that although they are not supposed to dissolve in the stomach, I find that within about an hour of taking them, I have a noticeable minty taste in my mouth which lasts for a few hours. This is rather annoying, especially when I am trying to enjoy my dinner. But I will continue to take them because my IBS has gotten quite bad and I'm thankful to have found something that helps.
Page
1