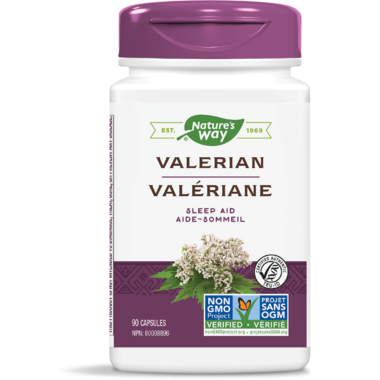 Description
Valerian naturally promotes restful sleep without the side effects commonly associated with sleep aids. Nature's Way Valerian extract is standardized to 0.8% valerenic acids.
Directions:
Adults: Take two capsules once per day with water one hour before bedtime. May be used up to 6 weeks.
Medicinal Ingredients (per capsule):

Valerian root (Valeriana officinalis) ... 400 mg
Valerian root extract, 8:1 to 10:1 (Valeriana officinalis) ... 110 mg
Standardized to 0.8% valerenic acids, equivalent to 880-1110 mg root
Other Ingredients:
Gelatin (capsule), silica.
Warning:
Consult a health care practitioner if symptoms persist, or if you are taking other sedatives or if you experience severe drowsiness and / or withdrawal symptoms upon abrupt discontinuation following chronic use, or if sleeplessness persists continuously for more than 3 weeks (chronic insomnia). Do not drive or use heavy equipment while taking this product. Consumption with alcohol is not recommended.
Contra-Indications:
Do not take if you are pregnant or breastfeeding.
Highlights

Shipping & Returns