Naturvet Glucosamine DS with Chondroitin Tablets
Stage 1 Joint Care
240 Chewable Tablets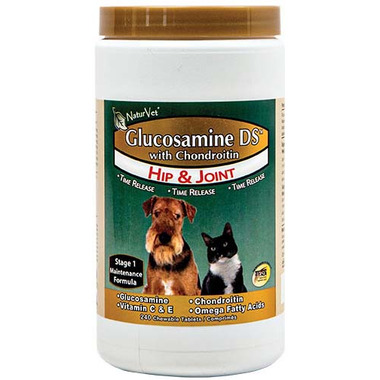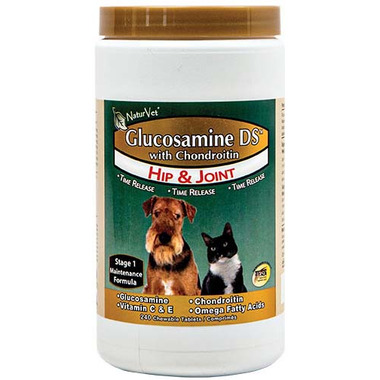 Naturvet Glucosamine DS with Chondroitin Tablets
Stage 1 Joint Care
240 Chewable Tablets
Naturvet Glucosamine DS with Chondroitin Tablets are veterinarian formulated and recommended to support healthy hip and joint function. These tablets help maintain joint flexibility and alleviate aches and discomfort associated with exercise. Providing important antioxidants and helping to support structural integrity of joints and connective tissues, these Naturvet Glucosamine DS with Chondroitin Tablets are a healthy, tasty natural flavoring that dogs and cats love.

Active Ingredients (Per 3 g Tablet): Glucosamine HCL (500 mg), Yucca Schidigera (90 mg), Chondroitin Sulfate (60 mg), Vitamin C (from Ester-C) (58 mg), Vitamin E (60 IU), Linolenic Acid (Omega 3) (1800 mcg), and Linoleic Acid (Omega 6) (946 mcg).

Inactive Ingredients: Citric Acid, Dicalcium Phosphate, Dried Whey, Fish Oil, Flaxseed, Kaolin, Magnesium Stearate, Maltodextrins, Microcrystalline Cellulose, Natural Coloring, Natural Flavoring, Non-Fat Dry Milk, Rosemary, Silica Aerogel, Stearic Acid and Vegetable Oil.

Always follow the instructions attached to the label of this product.



Caroline:
more than a year ago
My six-year-old dog had a shoulder strain (another dog rolled her over), and I started giving her this product. Within about a week, she started to recover her energy, seemed happier, and was walking much better. We still give her these pills, and overall her condition is good and she can run in the dog park, though she is sometimes a bit stiff when she first gets up. I grind them up with a mortar and pestle and sprinkle them on her food, and she seems not to mind the taste at all.
Jacqueline:
more than a year ago
Bought this for my 13 year old dog who has some arthritis/hip pain. Since he started taking it, he has an easier time jumping up and climbing stairs. He used to be in pain after his walk, but this happens much less frequently now. My vet looked at the ingredients and gave it a thumbs up as well. I also give it to my 9 year old dog who tore his CCL but I haven't really noticed that it makes a difference.
Page
1