NeilMed ClearCanal Ear Wax Removal Complete Kit
Contains 10 Treatments
177 mL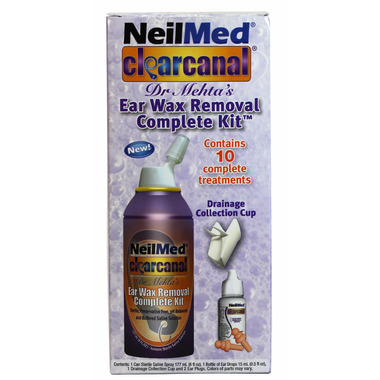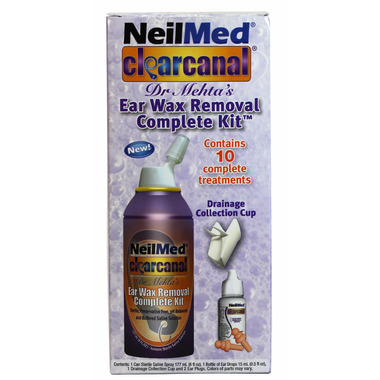 NeilMed ClearCanal Ear Wax Removal Complete Kit
Contains 10 Treatments
177 mL
Ear wax is important in preventing dirt and bacteria from causing hearing problems. If there is an excess of wax build up, ear rinsing may be necessary to soften, loosen and wash it out.
Contents:

1 Can Sterile Saline Spray (177 mL)
1 Bottle of Ear Drops (15 mL)
1 Drainage Collection Cup
2 Ear Plugs
Directions: This product is intended for use on adults and children over 12 years old. Consult your physician before use on children under 12. Tilt head sideways and place 10 drops into each ear canal by squeezing the plastic dropper provided with this system. The tip of bottle should not enter ear canal. Keep drops in ear for 10 minutes by keeping head tilted or placing enclosed ear plugs in ears. It is normal to feel warmth in inner ear. Remove ear plugs. Attach the special drainage collection cup to the canister to avoid the rinse solution dripping out of your ear. Flush ears with the NeilMed ClearCanal specially designed actuator nozzle for 10 seconds or as desired to achieve adequate flushing. Gently tilt head side to side to drain out residual liquid and dry ears with a clean dry towel wrapped on a finger. On rare instances, individuals may experience pressure in the ears. If this occurs, stop rinsing. If symptoms persist please seek medical attention.
ClearCanal Carbamide Peroxide Drops Ingredients: Active Ingredients: Carbamide Peroxide 6.5%. Inactive Ingredients: Glycerin, Oxyquinoline, Aloe Barbadensis leaf juice, Chamomilla Recutita (Matricaria) flower extract.
ClearCanal Saline Spray Ingredients: USP Grade Water, USP Sodium Chloride (9 mg/mL), USP Sodium Bicarbonate (0.5 to 1.0 mg/mL) to neutralize pH. No preservatives.