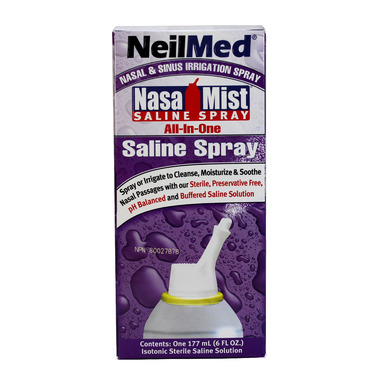 Description
NasaMist Saline Spray All-In-One is a nasal moisturizer and saline rinse all in one can. This drug-free, non-burning saline spray helps alleviate nasal allergies, dryness, post-nasal drip and congestion from the common cold or flu. Soothe, moisturize and cleanse using three specially designed nozzles.
Ultra Gentle Mist Tip for Nasal Moisturization:
This tip can be used for ages 1 and up for moisturizing and soothing dry nasal passages. Insert the Ultra Gentle Mist tip into nostril and press until adequate solution is sprayed.
Medium Tip:
This tip can be used for ages 5 and up. This tip will deliver a medium volume jet that can reach deeper into the nasal passages.
Large Volume Rinse Tip for Nasal & Sinus Rinse:
This tip can be used for ages 5 and up.
Features:
Preservative Free
Buffered Solution
pH Balanced Drug Free
Isotonic
Sterile
Contents:
One 177 mL Can
3 Specially Designed Nozzle Tips: Ultra Gentle Mist Tip, Medium Stream Tip, Large Volume Rinse Tip
Educational Brochure and Instructions of Use
Directions:
Step 1: Insert tip of actuator into nostril and press gently until adequate volume has been sprayed and the nasal passages are moist.
Step 2: Repeat for the other nostril. For babies and children, do not insert nozzle beyond the flange. Use as often as needed to moisturize.
Ingredients: USP Grade Water, USP Sodium Chloride (9 mg/mL) and USP Grade Sodium Bicarbonate (0.5 mg to 1.0 mg/mL) to neutralize pH.

Shipping & Returns
Unfortunately, due to the nature of this item, we cannot accept any returns.
We are only able to ship this item to Canadian customers.
This product cannot be shipped to Remote locations.
Click here for more information