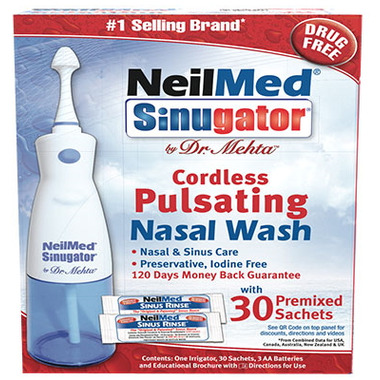 30 Count
NeilMed Sinugator by Dr. Mehta Cordless Pulsating Nasal Wash
is rated out of
5
by
5
.
---
Description
The NeilMed Sinugator Cordless Pulsating Nasal Wash is a soothing, non-burning or stinging Low Pressure System for saline nasal irrigation, moisturization and daily nasal hygiene. Use it for post nasal drip and nasal dryness from occupational and household dust, fumes, animal dander, pollen and smoke.
The NeliMed Sinugator is easy to use and delivers saline solution with positive and pulsatile pressure to clean your nasal passage thoroughly, while maintaining your head in an upright position. You have complete control, ensuring a gentle, soothing therapeutic experience.
Features:
Preservative, Drug, Iodine, BPA, Gluten and Latex Free
Premixed Packets of USP Grade Sodium Chloride & Sodium Bicarbonate (Purity level 99% or higher)
Excellent cleansing prior to spraying nasal corticosteroids
pH Balanced & Isotonic or Hypertonic with two or more packets
Pulsatile flow
Contents:
One Irrigator
30 Premixed Packets
3 AA Batteries
Educational Brochure and Instructions of Use
Directions for Use:
USE ONLY AS DIRECTED, IF SYMPTOMS PERSIST SEE YOUR DOCTOR/HEALTHCARE PROFESSIONAL. ALWAYS READ THE LABEL.
Step 1: Please wash your hands. Fill the clear blue reservoir with 240 mL (8 fl oz) volume of distilled, microfiltered (0.2 micron), commercially bottled or previously boiled & cooled down water at lukewarm or body temperature. Please do not use tap or faucet water for dissolving the mixture unless it has been previously boiled and cooled down.
Step 2: Cut the SINUS RINSE mixture packet at the corner and pour its contents into the blue reservoir of the Sinugator. Place the white motor unit over the blue reservoir and rotate until locked. Swirl the unit thoroughly to dissolve the mixture.
Step 3: Standing in front of a sink, bend forward to your comfort level and tilt your head down. Keeping your mouth open, without holding your breath, place the tip snugly against your right nasal passage or nostril. Press the blue power button until the solution starts draining from your left nasal passage. Depending on the head position, residual solution may drain from your mouth. We suggest to spit it out, however, there is no harm, if accidentally swallowed. For a proper rinse, keep pressing the power button until at least 1/4 to 1/2 (60 mL to 120 mL or 2 to 4 fl oz) of the solution is used for one nostril. Stop pressing the power button if you feel any discomfort, pain or pressure during the irrigation.
Step 4: Blow your nose very gently, without pinching nose completely to avoid pressure on eardrums. If tolerable, sniff in gently any residual solution remaining in the nasal passage once or twice, because this may clean out the posterior nasopharyngeal area, which is the area at the back of your nasal passage.
Step 5: Now repeat steps 3 and 4 for flushing your left nasal passage or nostril.
Shipping & Returns
Unfortunately, due to the nature of this item, we cannot accept any returns.
We are only able to ship this item to Canadian customers.
This product cannot be shipped to Remote locations.
Click here for more information
Rated

5

out of

5
by
Karla Meachem
from
Works Like a Charm! Easy to Use!
Love that it's battery operated (even comes with the batteries!). Easy to use & easy to clean up. Feel like I get a better rinse than just using the plastic bottles. I have rheumatoid arthritis in my hands; the size makes it very easy to hold and maneuver. Packaged extremely well. No complaints, even though I was nervous to purchase it.
Date published: 2021-03-27
Rated

5

out of

5
by
JamAnn
from
Best Nasal Wash
I have been using this Neil Med Pulsating Nasal wash for many years. This is the best nasal wash because it has a gentle pulse and you don't have to worry about squeezing too hard or too much all at once. It does a great job and has never failed. I would highly recommend this to anyone who uses nasal washes.
Date published: 2020-03-06
Rated

5

out of

5
by
dixie
from
this product is amazing so much faster to use than the nedi pot. im sure i have purchased about 8 of them in total for other people that i recomended the product to
Date published: 2020-01-02
Rated

5

out of

5
by
JIMMY
from
Excellent product !
Been using the NeilMed Sinugator for a few years for nasal cleansing. It's convenient and no mess !
Date published: 2020-01-09
Rated

5

out of

5
by
AL
from
Really helps
So great for allergies and sinis problems. Easy to use.
Date published: 2020-08-02