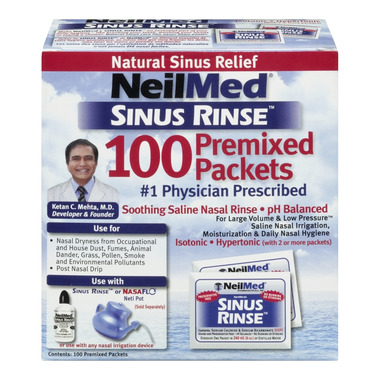 100 Count
NeilMed Sinus Rinse Refill
is rated out of
5
by
31
.
---
Description
NeilMed Sinus Rinse is a natural soothing saline nasal wash. A large volume low positive pressure nasal wash is the most effective way to irrigate the nose based on current medical studies. Nasal Irrigation is an excellent way to clean mucus from the nose making medication more effective. They also clean allergens, irritants, bacteria and viruses from the nose reducing the frequency of infection. Furthermore, they help decrease swelling in the nose and increase air flow.
NeilMedSinus Rinse is excellent for all ages; it is available in isotonic, pediatric and hypertonic concentrations.
NeilMed Sinus Rinse helps alleviate:
Nasal Allergies & Dryness
Sinusitis, Rhinitis
Allergic Asthma
Post Nasal Drip
Sinus Pressure & Nasal Stuffiness
Nasal Symptoms from Flu & Cold
Nasal Irritation from Occupational Dust, Fumes, Animal Dander, Grass, Pollen, Smoke & House Dust
Nasal Congestion
NeilMed Sinus Rinse Refill Pack Contains:
100 regular premixed packets of pH balanced sodium chloride & sodium bicarbonate mixture (USP grade, natural ingredients, isotonic, preservative & iodine free)
Educational brochure
Instructions in English, Spanish or French
Shipping & Returns
Unfortunately, due to the nature of this item, we cannot accept any returns.
We are only able to ship this item to Canadian customers.
Click here for more information
Rated

4

out of

5
by
Debbie
from
When we were all super sick in our house, almost too sick to move, these came in so handy. I know we could use a mix or salt/soda but when it takes everything you have just to fill up the Neilmed bottle. The only thing for what it is I think it is a bit $. It would be great if they had a container of it and you could just add a scoop full.
Date published: 2012-11-02
Rated

5

out of

5
by
Cass
from
After years of nasal congestion and postnasal caused coughing, I am, for the first time, relieved of both annoying issues. Full nights sleep, easy breathing and after three uses I already have reduction in cough. I can't wait to see what continual use will do for me. I'll post my progress in three months. So far it's great!
Date published: 2011-03-25
Rated

5

out of

5
by
Paula
from
Can't live without it.i used to get severe sinus infections because of allergies. When i start to suffer from allergies, i do a course of treatment as a prevention .( 4or 5 days.) i dont use it every day, just when allergies are bad. Does not burn and there is no discomfort if you follow the directions.
Date published: 2018-04-13
Rated

5

out of

5
by
Margaret
from
Great product, no doubt about it. I have been using it for sinus problem and in flu season. I also gargle with it. I even travel with these convenient packets. A friend used it recently and his runny-nose problem is completely gone. Of course the key is to do it everyday and get a good netty pot....
Date published: 2011-08-16
Rated

4

out of

5
by
Steve
from
Good product. Easy to use. Works to clean out sinuses. I use it with the plastic bottle delivery system. I warm 250 ml of filtered water in the microwave for 50 seconds (in a microwave-safe measuring cup). The whole process takes less than 2 minutes.
Date published: 2013-01-11
Rated

5

out of

5
by
Jennifer
from
This is a great product - takes the guesswork out of measuring the correct amount of salt/baking soda. No more breaking down a solid salt rock for my husband's neti-pot - he uses this now. He's even ditched his neti-pot for the NeilMed Rinse Kit.
Date published: 2014-05-24
Rated

5

out of

5
by
maryam
from
Yes this product is very good. I use it at least once a week. The price is good and the content of it is plenty and lasts a long time. it is very efficient specially during traveling and being in polluted atmosphere.
Date published: 2016-04-20
Rated

5

out of

5
by
bryan
from
I use sinus rince packs when I can't sleep at night due to stuffed up sinuses. It works great to gently clear sinuses. I highly recommend this product to anyone with sinus issues due to allergies.
Date published: 2011-08-25