Nellie's All Natural WOW Mop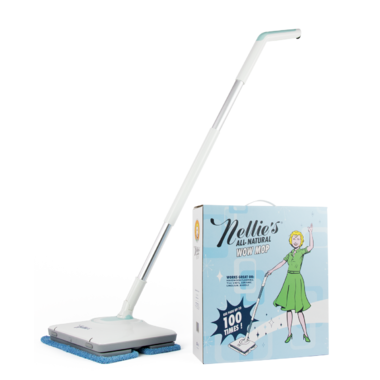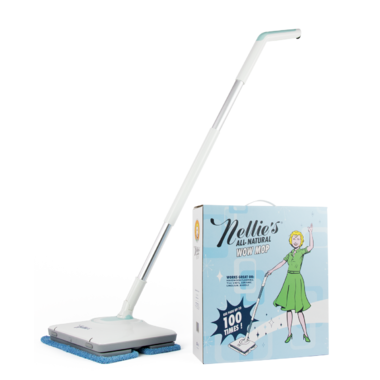 Nellie's All Natural WOW Mop
Introducing Nellie's WOW Mop! Cordless, lightweight and rechargeable, the WOW Mop makes cleaning your floors SO easy, you might never want to stop! Featuring oscillating pads, a high-frequency motor and a long grip handle, you can now tackle dirt and stains completely and effortlessly. The WOW Mop comes with a pair of
Nellie's WOW Wet Floor
cleaning pads that are machine washable, ecofriendly and can be reused up to 100 times.
Features:
Cordless
Lightweight
Rechargeable

LED Lights: Two LED lights illuminate dirt and stains. Convenient for cleaning under large furniture.
Spray Function: Best used with Nellie's Floor Care!
Pad Oscillation: The powerful motor delivers high-efficiency and thorough cleaning. Cleaning pad oscillation frequency moves up to 1000x/minute.
Flexible Rotation: A joint on the base allows the handle to rotate from all angles, facilitating mopping. Cleaning underneath furniture has never been so easy.
Specifications:
Lithium battery voltage: 2000 mAh, 35 W
Run time: 55 minutes
Charge time: 3-5 hours
Oscillation/vibration rate: 1000 cycles per minute
Includes a set of Nellie's WOW Wet Floor cleaning pads, measuring cup, charging cord, user manual
How to Use:
Dispense
Nellie's Floor Care
into the tank (200mL/6.7fl oz), press the power button and let the WOW Mop do the work. Your floors will be spotless, and your mother-in-law speechless. WOW, indeed!
Check out Nellie's WOW Mop in action!