NeoStrata Anti-Aging Serum with Fruit Stem Cells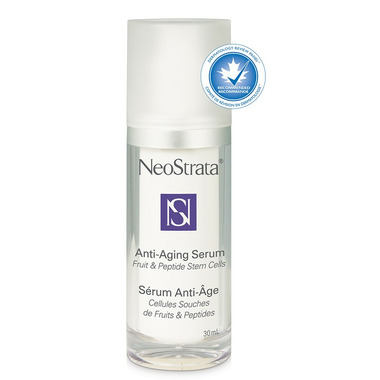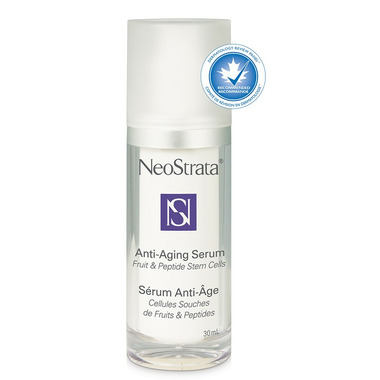 NeoStrata Anti-Aging Serum with Fruit Stem Cells
The Anti-Aging Serum Fruit & Peptide Stem Cells is formulated with two new cutting-edge technologies with the regenerative power to enable skin stem cells to thrive and flourish again: PhytoCellTecTM and Survixyl IS TM These stem cell technologies are combined with powerful peptides that are proven to reverse the signs of aging. This light serum contains the highest concentration of stem cell on the market and deeply penetrates the skin while moisturizing.

Ideal for:
All skin types
Multiple signs of aging
Age 35+
Results:
Helps delay visible signs of aging
Reduces the appearance of fine lines and wrinkles
Increases skin hydration
Restores healthy, younger-looking skin
Key Ingredients:
PhytoCellTecTM and Survixyl ISTM are based on the latest stem cell research to help prevent the signs of aging and rejuvenate the look of skin. This serum contains 2% PhytoCellTecTM and 2% Survixyl ISTM.
MatrixylTM3000 is a combination of two peptides with clinically proven anti-wrinkle efficacy. This gel contains 5% MatrixylTM3000.
This product is formulated with a powerful anti-aging blend including VIT-A-LIKETMand QuintescineTM IS, a peptide with antioxidant properties, to reduce the appearance of wrinkles and skin crepiness. This serum contains 5.5% of this powerful blend.

Daylene:
about a year ago
I LOVE this serum! I use it twice per day before I apply my moisturizer. It works great to reduce fine lines, even out my skin tone & adds moisture to my combination sensitive skin.
I'm allergic to a lot of ingredients found in many skin care products, but this doesn't seem to irritate my skin at all. I will be using this for a long time to come.
Page
1