NeoStrata Purifying Solution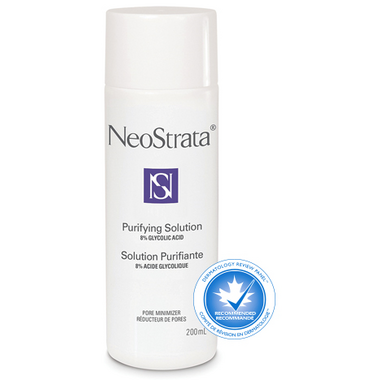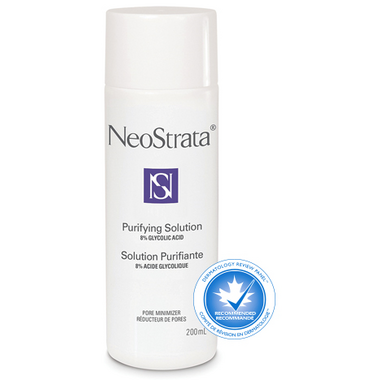 NeoStrata Purifying Solution
NeoStrata Purifying Solution applied on acne-prone skin areas, this solution reveals clearer skin without over-drying. For severe acne-prone skin, this solution can be compounded to achieve optimal results.
Features:
Ideal for: acne-prone skin, dilated pores, blackheads
All ages
Non-comedogenic
Non-irritating
Paraben free
Unclogs pores
Removes dirt and dissolves excess sebum
Reveals healthier-looking skin
Directions:
Cleanse skin before applying the product. Apply product to affected areas with a cotton pad 1 or 2 times daily. First time users should build skin tolerance gradually. Prior to sun exposure, use sunscreen on areas treated with AHAs.
Ingredients:
Aqua, Alcohol Denat., Glycolic Acid, Propylene Glycol,
Ammonium Hydroxide, Polyquaternium-10, Polysorbate-20, Chlorhexidine Digluconate
Cautions:
Use only as directed. Contact of the product with the skin must be of limited frequency and duration. For external use only. Avoid contact with eyes. If irritation occurs, discontinue use and consult a physician. Keep out of reach of children.

Chantal:
a few months ago
I started using this product 3 years ago and it has done wonders for my skin. It can be a drying if you don't use moisturizer after application. It has helped with fading of scars and uneven skin tone. MUST wear sun protection or skin will burn very easily (I use a daily moisturizer with SPF and it does the trick) . I highly recommend this product.
Jo:
more than a year ago
I used this product a few years back and had great results. I decided to try it again before going back to work after a year of mat leave and this product is helping with my hormonal skin issues. You will have to deal with breakouts and dry skin for the first few weeks of using it, but after the purge, expect clear, smooth skin! Make sure you moisturizer after you apply and always, always use sunscreen when using
This product or your skin will burn!
Page
1