Nestle Goodstart Alsoy Infant Formula with Omega 3 & 6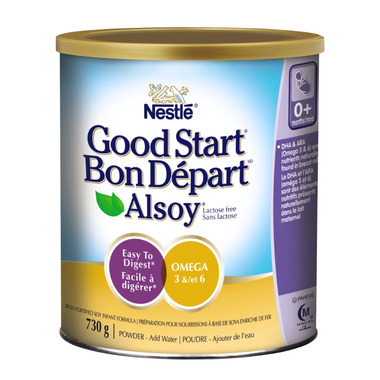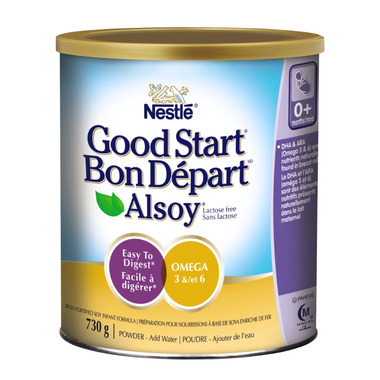 Nestle Goodstart Alsoy Infant Formula with Omega 3 & 6
This item is a final sale item. Returns cannot be accepted.
You want the best for your baby's future. But where do you start? Like all moms, you start with a few tiny hiccups (baby ones). But with a little practice, some help from family and friends and the right nutrition, knowing your baby's growing needs will become second nature. But how do you know whether a cow's milk based Infant Formula or a soy-based Infant Formula is right for your baby?
Healthcare experts recommend the following potential reasons for choosing a soy-based protein Infant Formula for your baby:
YES - Soy-based Infant Formula is a good option for those on a vegetarian diet, for religious or cultural reasons, or for lactose intolerance
NO - Soy-based Infant Formula may not be an ideal option for babies with a family history of allergy, or for treatment of cow's milk allergy and sensitivity

If you do choose a soy-based Infant Formula, Nestle Good Start Alsoy with Omega-3 & Omega-6 is the right choice for you and your baby.
Features:
Certified as kosher by the Orthodox Union of Jewish Congregation of America
Certified as halal by the Islamic Food and Nutrition Council of America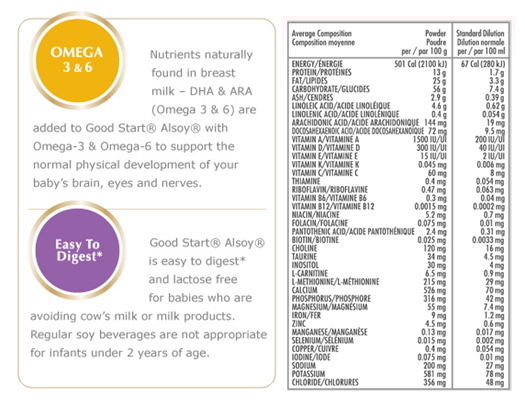 Ingredients: CORN MALTODEXTRIN, SOY PROTEIN ISOLATE, PALM OLEIN, SUCROSE, SOYBEAN OIL, COCONUT OIL, MINERALS (TRICALCIUM PHOSPHATE, POTASSIUM CITRATE, SODIUM CITRATE, MAGNESIUM CHLORIDE, CALCIUM CHLORIDE, POTASSIUM CHLORIDE, CALCIUM CITRATE, FERROUS SULPHATE, ZINC SULPHATE, COPPER SULPHATE, POTASSIUM IODIDE, SODIUM SELENATE), HIGH OLEIC SAFFLOWER OIL OR HIGH OLEIC SUNFLOWER OIL, M. ALPINA OIL*, VITAMINS (SODIUM ASCORBATE, CHOLINE CHLORIDE, INOSITOL, ALPHA-TOCOPHERYL ACETATE, NIACINAMIDE, CALCIUM PANTOTHENATE, THIAMINE MONONITRATE, RIBOFLAVIN, VITAMIN A ACETATE, PYRIDOXINE HYDROCHLORIDE, FOLIC ACID, PHYLLOQUINONE, BIOTIN, VITAMIN D3, VITAMIN B12), C. COHNII OIL**, L-METHIONINE, SOY LECITHIN, TAURINE, L-CARNITINE, ASCORBYL PALMITATE, MIXED TOCOPHEROLS.

* A SOURCE OF ARACHIDONIC ACID (ARA)

** A SOURCE OF DOCOSAHEXAENOIC ACID (DHA)