Neutrogena
Neutrogena T/Gel Theraputic Original Formula Shampoo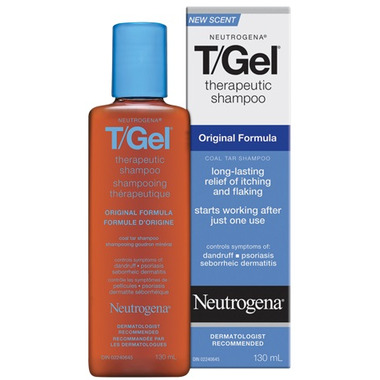 Neutrogena
Neutrogena T/Gel Theraputic Original Formula Shampoo
130 mL
Neutrogena T/Gel Theraputic Original Formula Shampoo
is rated out of
5
by
16
.
---
Description
NEUTROGENA® T/GEL® Therapeutic Shampoo Original is clinically proven to help control itching and flaking symptomatic of scalp psoriasis, seborrheic dermatitis and even common dandruff. The rich lather of T/GEL® Therapeutic Shampoo Original gently cleanses, leaving hair looking healthy, lustrous and manageable…even with everyday use.

Directions: Apply product evenly to scalp, leave on for several minutes, and then rinse off. Use at least twice per week or as directed by doctor.
Chemical Name: 0.5% Coal Tar
Shipping & Returns
Rated

5

out of

5
by
Neeti
from
80% reduction in hair fall and dandruff
Got 80% reduction in hair fall and dandruff after FIRST wash. I have long and heavy waist length hair and I was unable to figure out the reason for my hair fall since last one year. There was NO visible dandruff at all. I went for a hair treatment to the saloon and they said, "when you rub your scalp you can see visible dandruff". For once I got the dandruff treatment from the saloon but it didn't help as after I washed my hair at home it was the exact same amount of hair fall. I went to the drugstore and they recommended me a very expensive shampoo but with my choice I picked Neutrogena. And I can't be more happy with using this product. Thanks Neutrogena!!
Date published: 2019-02-06
Rated

5

out of

5
by
Maggie
from
Karate chops dandruff
I used this when I developed some nasty dandruff in the winter, and BAM it just worked like a ninja. I can't say that the smell of it was great, but you don't have to use this very long before everything is cleared up. I now use it as a preventative shampoo once every week or so. LOVE this stuff.
Date published: 2013-03-07
Rated

5

out of

5
by
Altuna
from
It works very good
I have been using that product for a long time. Whenever my scalp is dry and itchy, it helps to reduce that problem. I strongly recommend that one. I couldn't find any other competitor product like that.
Date published: 2022-02-22
Rated

5

out of

5
by
Emma
from
Is there a shortage?
This shampoo works. I've been using it for years... decades... and suddenly I can't find it anywhere in the town I live in. I visited 5 different drug stores today, none of them had this shampoo. It also appears I can't find it online either. Is there a supply shortage or has it been discontinued? Please tell me it hasn't been discontinued! Hello, Neutrogena? Help.
Date published: 2021-11-15
Rated

5

out of

5
by
Marci
from
Works great!
I tried three other shampoos for my scalp problem. None of them worked. I used this product twice and my problem went away.
Date published: 2020-12-24
Rated

5

out of

5
by
Sheri785
from
Noticeable difference after one use!
I've always struggled with dandruff in the winter... This past season has been the worst case I've experienced (which may be attributed to the cold Ontario winter, and the change in water in my new house...). But the point is, after one use, the itching subsided, the flakes were noticeably fewer, and I felt normal! My hair (which is coloured to cover those pesky greys) was shiny, and after a month of once weekly use, my colour has not been impacted by the T Gel shampoo. After several weekly uses, I can say that this is the best addition to my hair care routine. It does have a medicinal smell, but given that I use my salon brand conditioners (that smell amazing), I don't find it's overly problematic or noticeable.
Date published: 2017-02-08
Rated

3

out of

5
by
Brinikins
from
Blondes be wary, have purple shampoo handy
My child has issues with an itchy scalp, and after doing my research, I decided this was the better product to buy her. Her hair is long and the most beautiful blonde, and I was helping comb her hair after using this and I realized her hair had turned a browny yellow brassy color. I immediately grabbed my bottle of purple shampoo and luckily got her blonde again. Unfortunately I don't want to use this again on her hair. I have hopes that this one wash worked a bit at least though as the shampoo did give her relief from the itchiness.
Date published: 2022-05-28
Rated

3

out of

5
by
Angela19
from
Gets rid of dandruff, but caused hair loss
I was thankful to find this product, it got rid of my bad itchy dandruff almost instantly! But I noticed my hair thinning fairly quickly, and after I stopped using it (after 3 uses) my hair stopped thinning, but I also had next to no dandruff anymore and my dandruff hasn't came back . So do what you will with this info
Date published: 2019-11-25