New Roots Herbal Probiotic Intensity 20 Billion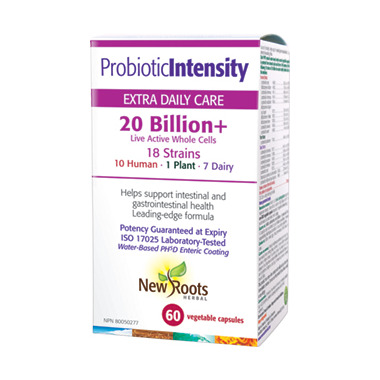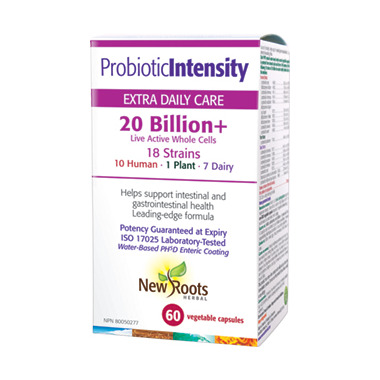 New Roots Herbal Probiotic Intensity 20 Billion
New Roots Herbal Probiotic Intensity is formulated with 20 billion live cells, spanning 18 specific therapeutic probiotic strains, and an advanced extract of colostrum for superior digestive and immune-system performance.
Daily probiotic that promotes gut flora
Leading-edge formula that features 18 different strains, plus colostrum for maximum beneficial effects
Features our water-based PH⁵D enteric coating for optimal results
Directions:
Adults, adolescents, and children 6 years old: Take 1–2 capsules daily or as directed by your health-care practitioner. If you are taking antibiotics, take this product at least 2–3 hours before or after them.
Caution:
Contains no: Preservatives, artificial flavour or colour, gluten.
Cautions and warnings: Consult a health-care practitioner prior to use if you have nausea, fever, vomiting, bloody diarrhea, or severe abdominal pain; if you have a history of cancer; if you have diabetes; if you have liver or kidney disease; or if you have been instructed to follow a low-protein diet. Discontinue use if symptoms of digestive upset (e.g. diarrhea) occur, worsen, or persist beyond 3 days. This product has come into contact with milk and soy. Do not use this product if you have a milk or soy allergy.
Contraindications: Do not use if you have an immune-compromised condition (e.g. AIDS, lymphoma, patients undergoing long-term corticosteroid treatment).
Do not use if seal is broken. Keep out of reach of children. Keep refrigerated.
Ingredients:

Each PH5D natural water-based enteric-coated vegetable capsule is protected from stomach acids and delivers 100% potency of the following 18 strains of 20 billion live active healthy whole cells to the intestines
Human Strains:
Lactobacillus casei HA‑108
3.825 billion CFU
Bifidobacterium bifidum HA‑132
1.216 billion CFU
Lactobacillus rhamnosus HA‑111
1.065 billion CFU
Lactobacillus rhamnosus HA‑114
976 million CFU
Lactobacillus acidophilus R0418
613 million CFU
Bifidobacterium longum ssp. longum R0175
335 million CFU
Bifidobacterium infantis R0033
335 million CFU
Bifidobacterium breve R0070
335 million CFU
Lactobacillus salivarius HA‑118
186 million CFU
Lactobacillus reuteri HA‑188
44 million CFU
Plant Strain:
Lactobacillus plantarum R1012
446 million CFU
Dairy Strains:
Lactobacillus rhamnosus R0011
4.461 billion CFU
Lactobacillus rhamnosus R1039
3.346 billion CFU
Lactobacillus paracasei HA‑196
1.562 billion CFU
Lactobacillus helveticus R0052
558 million CFU
Lactobacillus casei R0215
446 million CFU
Streptococcus salivarius ssp. thermophilus R0083
223 million CFU
Lactobacillus delbrueckii ssp. bulgaricus R9001
56 million CFU
Bovine colostrum (from Bos taurus), 8% proline-rich polypeptides
25 mg
CFU Cells = Colony-Forming Unit Cells. Potency guaranteed at expiry.
Other ingredients: Ascorbic acid, inulin, arabinogalactan, vegetable magnesium stearate, silicon dioxide, and potato starch in a non‑GMO vegetable capsule composed of vegetable carbohydrate gum, purified water, and a water-based enteric coating.

Please be advised that Well.ca follows manufacturer guidelines for storing & shipping probiotics. This product will be shipped with an ice-pack to maintain product efficacy.